How Deep Is the Value Rally?
March 13, 2021 at 11:00 AM EST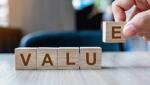 By Matthew J Bartolini, CFA, Head of SPDR Americas Research Up and down the cap spectrum and beyond the shores of the US, value has had a strong start to 2021 Will this rally continue? The resurgence of value stocks has been a dominant theme over the past few months, culminating in the largest...