Calgary, AB - TheNewswire - January 17, 2023 - Crestview Exploration Inc. (CSE:CRS) (Frankfurt:CE7) ("Crestview" or "the Company") is pleased to announce the results from the 2022 Hybrid-Source Audio Magnetotellurics (HSAMT) survey at the Rock Creek and Falcon gold-silver prospects in the Tuscarora Mountains of Elko County, Nevada. Four survey lines were carried out at Rock Creek and one lines was conducted at Falcon, for a total of approximately 6,800 meters surveyed. Please refer to Table 1 for line length and location coordinates.
Table 1
 

Survey Line Locations - UTM Zone 11N

 
 
 

Line

Length (meters)

Easting Start

Northing Start

Easting End

Northing End

 
 
 

Rock Creek 1

1200

550938

4581198

552137

4581197

 
 
 

Rock Creek 2

1700

550584

4582207

552282

4582209

 
 
 

Rock Creek 3

1300

550482

4582981

551782

4582970

 
 
 

Rock Creek 4

1300

550481

4584280

551782

4584286

 
 
 

Falcon 1

1300

550424

4577320

551726

4577300

 
 
 
 
 
 
 
 
 
 
 
The lines were oriented E-W to cross the dominant structural fabric in the area. Please refer to Figure 1 for approximate locations and corresponding surface geology at Rock Creek. The four lines at Rock Creek were widely spaced across the length of the property, and the Falcon line was chosen to offset the inherited Falcon CSAMT data in the area of the historic mine.
The survey penetrated to approximately 800 meters depth, providing strong indicators for major structural and possible lithological changes. The uninterpreted figures for the line data is provided in Figures 2-6.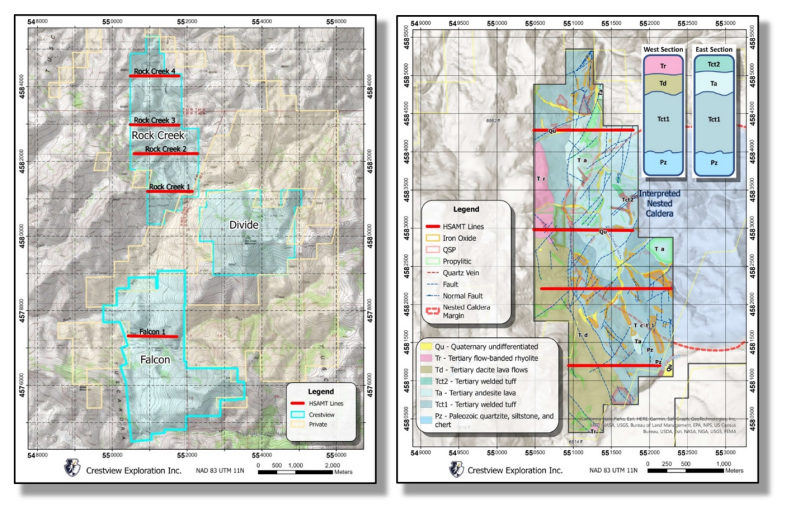 Click Image To View Full Size
Figure 2 – Rock Creek Line 1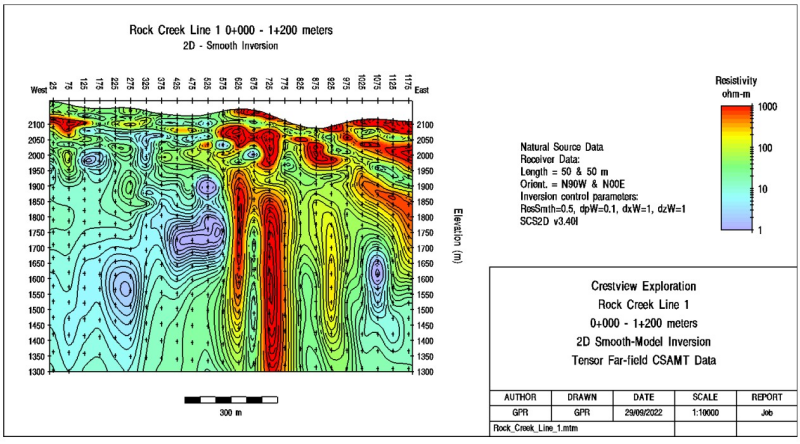 Click Image To View Full Size
Figure 3 – Rock Creek Line 2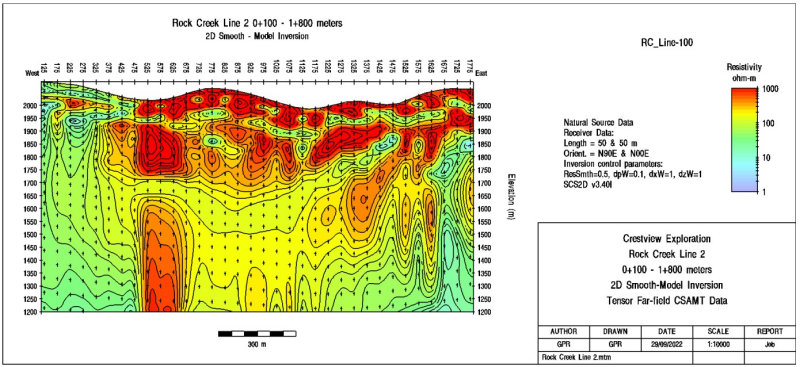 Click Image To View Full Size
Figure 4 – Rock Creek Line 3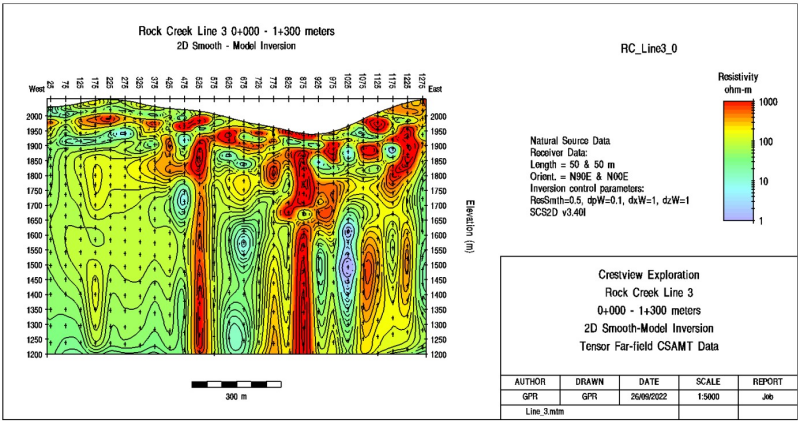 Click Image To View Full Size
Figure 5 – Rock Creek Line 4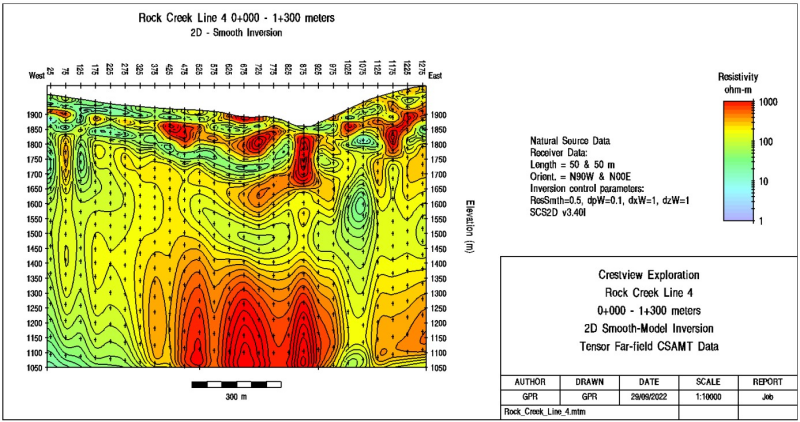 Click Image To View Full Size
Figure 6 – Falcon Line 1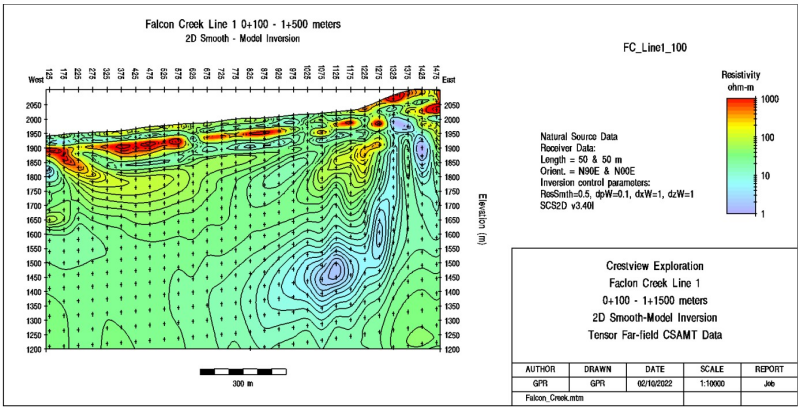 Click Image To View Full Size
Crestview is in the process of integrating this data with the other results taken to date, including the 2022 high-resolution mapping at Rock Creek. The surface lithologies and interpreted stratigraphic sections are being utilized to interpret possible lithology/Formation changes. Additionally, the vertical/sub-vertical structures (which reach the surface) in the HSAMT sections correspond well with the mapped faults.
There appear to be deep-penetrating anomalies in all of the HSAMT sections, which may represent favorable structures for hydrothermal fluid flow and subsequent alteration and mineralization. There is also a marked horizontal contrast in resistivity at Rock Creek, approximately below the 1,700-1,800 meter mark where the contour spacing begins to widen significantly. This contrast may represent a paleosurface between the upper volcanic sequence and the underlying Paleozoic metasedimentary sequence.
The section at Falcon corresponds well with the nearest CSAMT section Crestview inherited with the Falcon data (Ironwood Gold Corp.: Preliminary Assessment of Falcon Mine Property, 2012). In the inherited report, the low-resistivity signal at depth (below approximately the 1,800 meter mark) is interpreted to indicate "extremely conductive altered carbonaceous lower plate sediments" (Ironwood Gold Corp.: Preliminary Assessment of Falcon Mine Property, 2012).
Crestview is utilizing this and all other data collected to date to update and finalize drill targets for the 2023 program. The company aims to drill between 8,000 to 12,000 feet at Rock Creek, and another 2,000 to 3,000 feet at Divide in the coming field season.
Crestview's CEO, Chris Wensley, commented, "we are very encouraged and excited by what we are seeing in the HSAMT data and how it corresponds with our mapping efforts. Crestview has now accomplished all of the preliminary work set out ahead of drilling at Rock Creek, including mapping, sampling, and collecting geophysical and geochemical data. We are now in a position to pick the best possible drill targets at Rock Creek, and we are eager to test the targets in 2023."
This News Release was prepared by J.A. Lowe, M.Sc. Geology, and has been approved by Alan Morris, M.Sc., CPG #10550. 
Alan J. Morris is a Qualified Person as defined by NI 43-101 and has reviewed the scientific and technical disclosure included in this news release.
On Behalf of the Board of Directors,
Chris Wensley, CEO
About Crestview Exploration Inc:
Crestview Exploration is an experienced exploration company focused on the exploration and development of its portfolio of gold and silver properties located in prolific mining districts of Nevada.
The Rock Creek gold project is Crestview's flagship asset, with 74 unpatented lode mining claims wholly owned and controlled by CRS. The Rock Creek property was acquired in 2017, and the company went public in 2019. Emboldened by the results coming out of Rock Creek, Crestview strategically expanded on the land position with the acquisition of the nearby Divide Mine prospect in April 2020, and the acquisition of the Falcon silver-gold prospect in September 2022. Between the three properties, all targeting similar mineralization and likely the same hydrothermal system, Crestview now holds 260 total claims in close proximity of one another. These three gold prospects, along with the nearby Castile prospect, are situated in a region with proven "world class" gold deposits (including Midas, Jerritt Canyon, Betze-Post, Meikle, and Gold Quarry), where the potential of finding large, high-grade gold-silver deposits is favorable.
The Cimarron project is located in the San Antonio Mountains of Nye County, Nevada, and is comprised of 31 unpatented lode mining claims, including control of 6 historically producing claims associated with the historic San Antonio mine. The property is located in the prolific Walker-Lane trend, approximately 44 kms south of the "world class" Round Mountain deposit.
For further information please contact:
Chris Wensley, Chief Executive Officer
Tel: 1-778-887-3900
Email: Chris@crestviewexploration.com
Forward-Looking Information 
This news release includes certain information that may be deemed "forward-looking information" under applicable securities laws. All statements in this release, other than statements of historical facts, that address acquisition of the Property and future work thereon, mineral resource and reserve potential, exploration activities and events or developments that the Company expects is forward-looking information. Although the Company believes the expectations expressed in such statements are based on reasonable assumptions, such statements are not guarantees of future performance and actual results or developments may differ materially from those in the statements. There are certain factors that could cause actual results to differ materially from those in the forward-looking information. These include the results of the Company's due diligence investigations, market prices, exploration successes, continued availability of capital financing, and general economic, market or business conditions, and those additionally described in the Company's filings with the Canadian securities authorities.
Investors are cautioned that any such statements are not guarantees of future performance and actual results or developments may differ materially from those projected in the forward-looking information. For more information on the Company, investors are encouraged to review the Company's public filings at www.sedar.com. The Company disclaims any intention or obligation to update or revise any forward- looking information, whether as a result of new information, future events or otherwise, other than as required by law. 
NEITHER THE CANADIAN SECURITIES EXCHANGE NOR ITS REGULATION SERVICES PROVIDER HAS REVIEWED OR ACCEPT RESPONSIBILITY FOR THE ADEQUACY OR ACCURACY OF THIS RELEASE
Copyright (c) 2023 TheNewswire - All rights reserved.