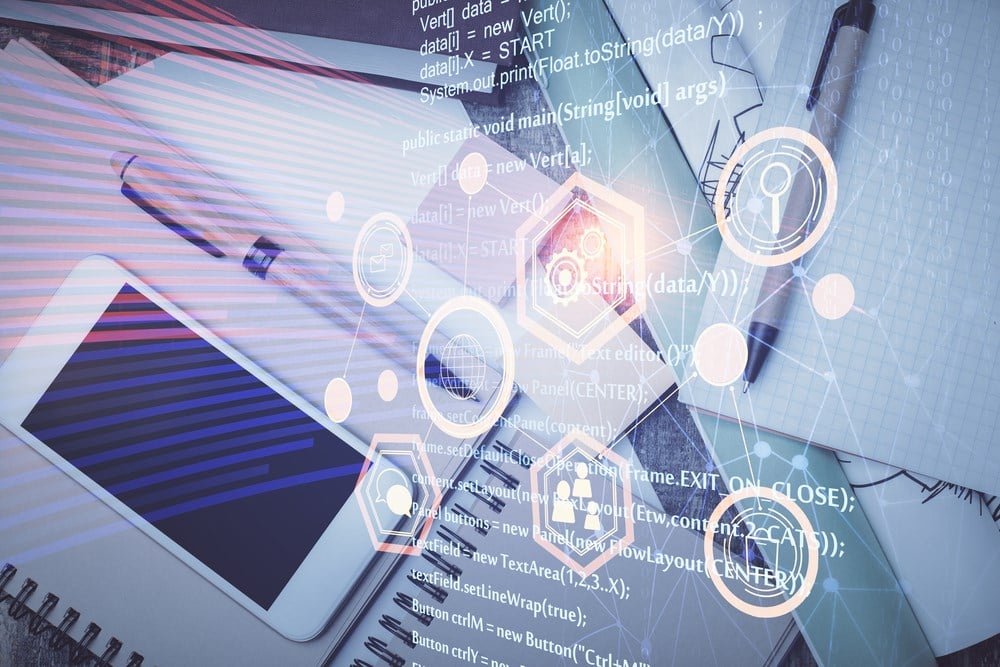 What goes down must come up. This has certainly been the mantra for many U.S. stocks in 2023. The most prominent example is the technology sector. Thanks to the ceremonious arrival of artificial intelligence (AI), tech stocks are getting bid up like it's 1999. As the classic Prince hit goes, it may not be "party over, oops, out of time" anytime soon.
One of the biggest beneficiaries of the AI revolution — software companies. Software is poised to play a central role in the development of generative AI technologies that dramatically alter the way we work and play. In many instances, investors have glazed over quarterly financial results and focused on management commentary around new and upcoming AI offerings.
While rising interest rates have a negative impact on other areas of technology — most notably, solar — software stocks are easily shrugging off the macroeconomic headwinds. After plunging 36% last year, the S&P North America Technology Software Index is up more than 40% year-to-date. 
But it's not all about the mega caps. Nor is it all about AI. Plenty of smaller domestic companies are riding the AI wave. Others are getting a big boost from enterprise digital transformations, cybersecurity, the Internet-of-Things (IoT) and other promising growth markets that are now playing second fiddle to AI.
So while software stocks like Microsoft, Oracle and Adobe capture the imaginations of growth investors, these three under-the-radar winners are climbing to new highs.
Why Is Elastic Stock Going Up? 
Search-powered solutions provider Elastic N.V. (NYSE: ESTC) gapped up 20% on September 1st en route to hitting an 11-month high of $79.97 on Friday. Management announced a 17% jump in second-quarter revenue and earnings per share (EPS) of $0.25 which were more than twice the consensus expectation. The outperformance was driven by rising demand for the company's AI-powered Elasticsearch platform, which helps customers get real-time information to gain a competitive edge. Microsoft, Uber and Slack are among Elastic's best-known customers.
In May 2023, Elastic launched the Elasticsearch Relevance Engine (ESRE) that combines the power of Azure OpenAI, ChatGPT and enterprise data analytics. It then unveiled the Elastic AI Assistant to help guide users' AI-based search processes. Early adoption of the high-margin products appears strong, which is prompting Wall Street to raise their earnings estimates. Analysts now see fiscal 2024 EPS coming in above $1.00, which would mark a huge improvement from the $0.24 recorded in fiscal 2023.
What Is a Good IoT Software Stock?
Mainly because of the timing of its December 2021 IPO, Samsara Inc. (NYSE:IOT) had a rough introduction to the public market — but is finally getting its due. The IoT software pioneer finally eclipsed its IPO peak last week after reporting blowout Q2 financials. Revenue surged 43% year-over-year amid growing demand for the Connected Operations Cloud. The software helps complex businesses use IoT data to improve their operations. Samsara ended the period with more than 1,500 customers that generated at least $100,000 of annual recurring revenue (ARR). Such customers now comprise 50% of the customer base compared to 42% two years ago. 
Samsara is winning over customers because of its proven ability to save time and lower costs. Its vehicle telematics and equipment monitoring apps are helping an undisclosed major airline more efficiently manage thousands of baggage carts, boarding stairs and other equipment, leading to fewer flight delays and improved customer satisfaction.
More encouraging than the sharp top-line growth — management predicts that it will reach non-GAAP profitability in the current fiscal year. If it does, this could attract big institutional money and cause the stock to run higher. Up approximately 150% year-to-date, Samsara is getting a second chance in a healthier tech spending environment.   
Does Okta's Stock Have More Upside?
Okta, Inc. (NASDAQ: OKTA) is trading near a 52-week high after posting 23% revenue growth and EPS of $0.31 for Q2, both of which handily topped the Street. The independent identity software leader is benefiting from global interest cybersecurity solutions that integrate identity verification into mission-critical projects. With security breaches continuing to pop up in retail, fintech and other consumer-facing areas, businesses are turning to Okta for solutions that enable secure authentication and access — and thereby allow their digital transformations to proceed without hiccups.
Thanks to growing demand from its largest customers and effective cost-cutting measures, management raised its full year adjusted EPS guidance by more than 30%. At the midpoint, this puts the stock's P/E ratio at a lofty 75x. For some analysts, this is reason to be cautious, if not sell. For OKTA bulls that recall the stock hitting $294 in February 2021, the valuation is a-OK. The polarizing stock has a wide price target range of $64 to $112, so expect plenty more volatility ahead.