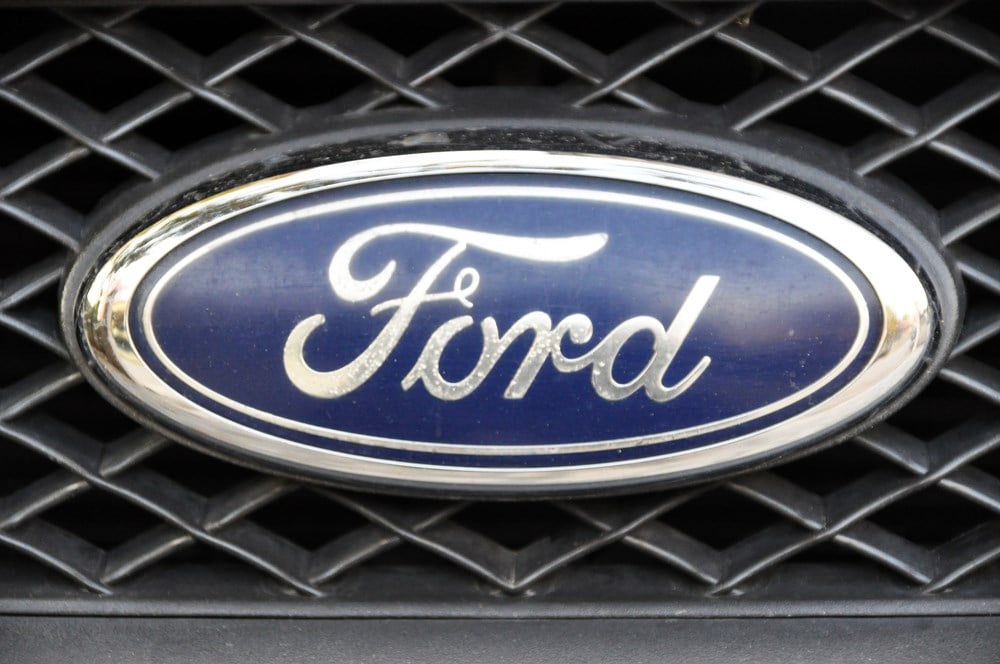 Major automaker Ford Motor Co. (NYSE: F) shares have been facing pressures, sending its stock down to May 2023 levels. Shares are still trading up 7% for the year. Still, a looming strike with the United Auto Workers (UAW) union threatens production schedules for the Big 3 automakers, which also include General Motors Co. (NYSE: GE) and Stellantis NV (NYSE: STLA).
Whether the markets have priced in the worst-case scenario has yet to be answered. Shares have fallen to value territory as they trade 5.64X forward earnings with a 5.1% dividend yield, well below its 10-year average price-earnings (P/E) ratio of 12.6.
EV Production Capacity Boost
On the electric vehicle (EV) front, Ford slashed prices on its 2023 Motor Trend Car of the Year F-150 Lightning Electric Truck as Tesla Inc. (NASDAQ: TSLA) cut prices of some of its models, waging a price war worldwide. This has resulted in a springboard impact boosting demand six-fold in orders and over 50% for its XLT trim level.
On Aug. 1, 2023, Ford reopened its Rouge Electric Vehicle Center after a six-week expansion project, bringing capacity up to 150,000 units by the fall to meet the heavy demand. A strike in September would stifle the effects of extra capacity as production slows.
Year of the Strikes
Labor strikes are becoming more common in 2023. Major airlines successfully negotiated new contracts with the various unions for pilots, ground crew and flight attendants to bypass any strikes in 2023. The same can't be said for Hollywood as it undergoes a strike by the Writers Guild of America (WGA), launched on May 2, 2023, and the Screen Actors Guild (SAG-AFTRA), launched on July 14, 2023.
Potential Impact of UAW Strike
Ford has the largest UAW workers, estimated at around 57,000, working at all U.S. manufacturing plants. Its peers, General Motors has 46,000 UAW workers, Stellantis has 44,000 workers, and Tesla has nearly 10,000 UAW workers. The UAW voted overwhelmingly to strike if negotiations are settled by Sept. 14, 2023, when the current four-year contract expires.
The impact of a strike would fall on delays and possible shutdown of production, which would impact the top and bottom lines. It's been reported that Ford has already been preparing salaried and white collar workers to take over the production lines if UAW workers go on strike.
Strike Induced Savings
The WGA and SAG-AFTRA strike hasn't slowed down Hollywood but has delayed production for shows and movies for up to several years. Attempting to put a positive spin, Warner Bros. Discovery (NYSE: WBD) CEO David Zaslav noted that the strikes saved the studio in the low $100 million during the second quarter of 2023.
The company expects another $1.7 billion in cash flow freed up for the third quarter, largely due to the substantially larger savings impact from both strikes. The early estimates are for a return to work in early September.
Upside of Strikes
If the strikes continue through the end of the year, Warner Bros. could see several hundred million in upside-free cash flow guidance but some incremental downside to its adjusted EBITDA. Strikes have had a short-term impact of freeing up cash flow and expense savings, but the long-term effects on production delays and content may be much larger.
Could this scenario be similar to the UAW strikes as it impacts production schedules as current inventory has been piling up at Ford? There is also the possibility of President Biden stepping in to avert a UAW strike.
Impressive Q2 2023 Earnings Beat
Ford shares hit a yearly high of $15.42 several weeks before reporting its strong Q2 2023 earnings. The company reported EPS of 72 cents, beating consensus analyst estimates of 54 cents by 18 cents. Revenues climbed 11.9% YoY to $44.95 billion, beating $43.17 billion analyst estimates.
Ford Pro produced 22% revenue growth for commercial customers. Ford Blue Gas and Hybrid reported $2.3 billion EBIT. Ford Model E revenues rose 39% YoY for its EVs, expecting a run rate 600,000 in 2024.
Raised Full-Year Guidance
Ford raised its full-year 2023 guidance for adjusted EBIT of $11 billion to $12 billion, up from $9 billion to $11 billion. Adjusted free cash flow is expected between $6.5 billion to $7 billion versus $6 billion earlier guidance. Full-year EBIT by segment expectations are $8 billion for Ford Pro, up from $7 billion earlier guidance.
It expects around $8 billion EBIT for Ford Blue, up from $6 billion earlier guidance. It expects a loss of $4.5 billion for its Ford Model E, up from earlier estimates of $3 billion due to the price wars, capacity and other costs.
Ford Motor analyst ratings and price targets are at MarketBeat.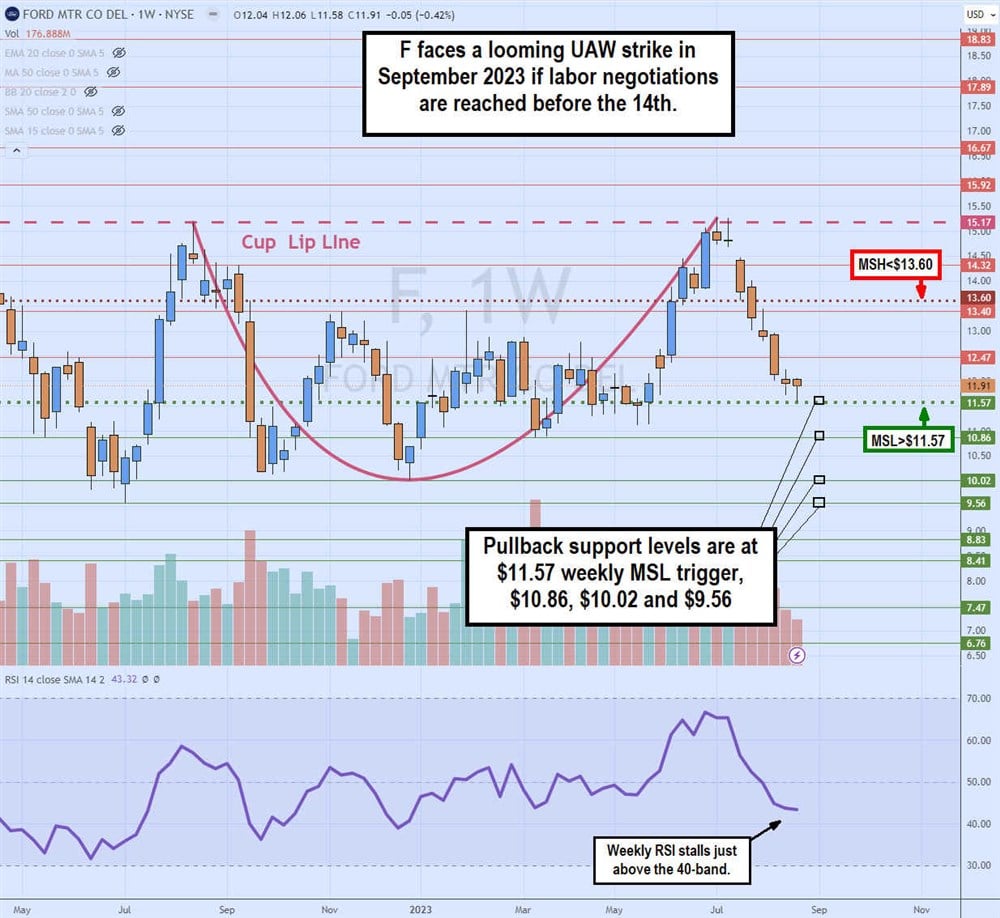 Weekly Cup Pattern
The weekly candlestick chart on F illustrates a cup pattern that commenced at the $15.17 lip line in August 2022. Shares fell to a low of $10.02 by December 2022. F triggered a weekly market structure low (MSL) breakout through the $11.57 trigger that helped shares climb to retest the cup lip line at $15.17 in early July 2023.
The weekly relative strength index (RSI) oscillation climbed to the 66-band before peaking and falling back down to the 43-band upon the weekly market structure high (MSH) breakdown under the $13.60 trigger. F can either bounce back through the cup lip line for a cup and handle breakout or continue to fall lower towards the $10.02 lows to form a weekly rectangle.
Pullback supports are $11.57 weekly MSL trigger, $10.86, $10.22 and $9.56.