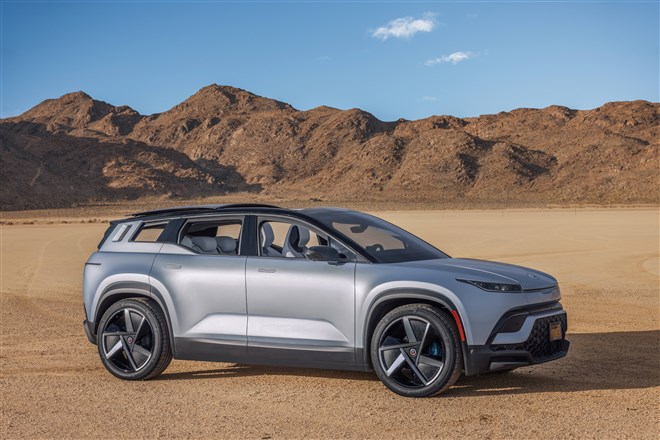 Electric vehicle maker Fisker, Inc. (NYSE: FSR) proves that even your competitors can be your friends.
January 27th's 15% surge came after Tesla announced better-than-expected fourth-quarter earnings that ignited Tesla shares and those of several EV peers — a much-needed jolt for a sector that hit the skids in 2022.
Fisker's advance also came with massive trading volume, which the stock hasn't seen since October 2021. Some 28 million shares exchanged hands on Friday, more than five times the 90-day average.
Is this the turning point Fisker bulls have long awaited? Maybe so.
On October 28, 2021, volume topped 30 million shares on the news President Biden would soon meet with lawmakers to promote his landmark infrastructure bill. Three weeks later, the former SPAC had run more than 60%.
While ongoing government support for EV charging stations and more positive Tesla headlines would undoubtedly support Fisker's stock, eventually, the company will need to stand on its own two feet. Whether a sustained uptrend follows last week's spark will ultimately depend on how the market views Fisker's fundamentals and technicals.
How Are Fisker's Fundamentals?
Based on the income statement, Fisker's fundamentals are weak. Sales are minimal and the company is operating at a steep net loss. To be fair, though, this isn't uncommon among upstart EV players that have yet to book any real revenue. 
The balance sheet, on the other hand, is quite healthy. Fisker's debt-to-capital ratio is 53%, which affords it room to pursue growth initiatives and further tap into the credit markets if necessary. Even Ford and General Motors are more levered.  
But Fisker's growth prospects make the current financial statements less relevant to long-term investors. Can the company carve out a significant slice of a global EV market that Bloomberg forecasts will deliver 36% more vehicles in 2023 en route to explosive multi-year growth? 
This will largely hinge on the success of Fisker's initial offerings, including the much-hyped Ocean. Production of the all-electric SUV began in November 2022 at an Austrian factory to meet the more than 63,000 reservations made for the ($37,499 and up) vehicle. In the U.S., two Ocean trim levels have already sold out for 2023. 
Fisker's follow-up offering is the futuristic PEAR EV for urban living, which starts at $29,900 and is slated for delivery in 2024. Further down the road, Fisker is slated to unveil Ronin, the world's first electric, four-door convertible GT sports car. If consumer adoption of PEAR and Ronin is similar to that of Ocean, Fisker's income statement quality could rev significantly higher. 
What Do the Charts Now Say About Fisker Stock?
Fisker's price pattern has been largely sideways over the past few months, but this is a good thing. The stock has been stabilizing from a prolonged downtrend and finding support levels. The $6.50 level has been a bottom on three occasions since October 2022, which bodes well for a potential springboard to a reversal. 
Another bullish development is that Fisker has regained its 50-day moving average. Since it has also done so in convincing volume, the likelihood of a lengthy recovery is good.
Although the market was understandably quick to take near-term profits when the stock soared above $8.00 (and the daily chart's upper Bollinger band), several other indicators suggest it has room for longer-term expansion. The Relative Strength Indicator (RSI) is a moderate 58, and the MACD has only just begun its key crossover. The ability of Fisker to maintain momentum ahead of its upcoming earnings release will be important to watch. 
Is Wall Street Bullish on Fisker?
Since Fisker reported third-quarter results in early November 2022, a fourth-quarter update is probably imminent. Last quarter's report didn't go over so well, mainly because it wasn't a favorable stock market for high-flying, pre-revenue EV players. Despite positive updates around low spending levels and Ocean pre-orders, Fisker gapped lower and eventually hit a new 52-week low. 
Wall Street became rather bullish on Fisker in the wake of the Q3 report despite the tough macro backdrop. Four firms called it a buy before year-end, with price targets ranging from $10 to $21. 
Last week, Morgan Stanley broke up the party by downgrading Fisker to a Sell, a rating it also gave to Lucid Group. This bearish stance was very untimely, though, with Fisker and Lucid being two of the biggest gainers on Friday.
Most analysts remain in the bullish camp, and it's easy to see why. Early demand for the Ocean is strong because of the SUV's quality and relative affordability (note: The 2022 Tesla Model X SUV, with roughly the same driving range, starts at $120,990).
If Fisker can continue to appeal to the mass market and production stays on schedule, its stock could be in for turbocharged gains.