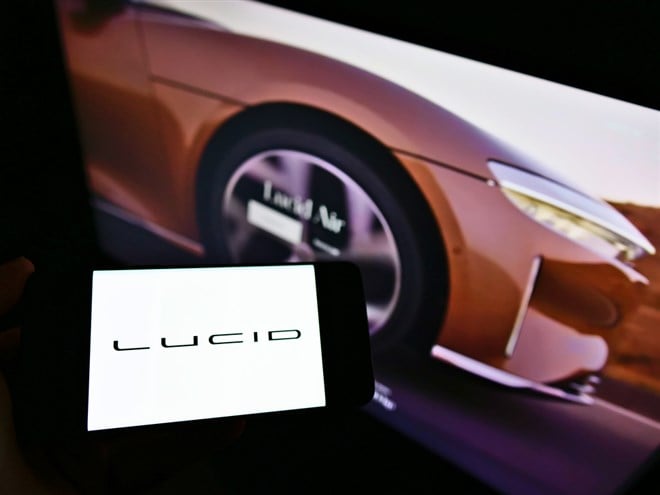 The Lucid Group (NASDAQ: LCID) stock price has been on a bender over the last five days. The company's share is up 36.31% over this period. The majority of those gains came last Friday with the stock surging 58.44%.
Some of those gains have since eased off. Lucid's share lost 8.70% of its value in yesterday's trading session and looks to be finding support after expanding into heavily overbought territory.
So let's recap the event amid its share price moving up into the stratosphere.
Buyout rumors
Lucid Group's rally comes amid rumors that Saudi Arabia's Public Investment Fund (PIF), which owns 62% of Lucid, was preparing to buy its remaining shares and take it private. PIF invested about $1.3 billion in Lucid in 2018 and another $915 million in 4Q 2022. Lucid represents nearly 40% of PIF's $37 billion US stock portfolio as of September 30, 2022.
If PIF buys the rest of the company, it is expected to invest more heavily to fix operational issues that have constrained its production growth.
The luxury electric vehicle (EV) brand struggled in 2022, with only 7,180 units produced. LCID was only producing vehicles at a rate of about 38 units per day, compared to Tesla's Q4 production rate of 4,779 units/per day.
This adds to the company's bigger problems in the third quarter of last year. Lucid reported a net loss of $530 million and $195.5 million in revenue.
Short squeeze
The price increase in Lucid Group's share could also be due to a short squeeze and increased trading volume. Betaville reported that investors could have been forced to cover their short positions amid the takeover rumor being made public, thus leading to a spectacular rally.
Lucid's short-interest ratio has since surged even higher, with a record of 34.32% of its float being sold short.
The significance of a high short-interest ratio is that it can be a potential red flag for investors, signaling that many investors are prepared to buy the stock if its price rises. This could lead to a short squeeze, as we've seen today, where the stock price rises rapidly as short sellers scramble to buy shares to limit their losses.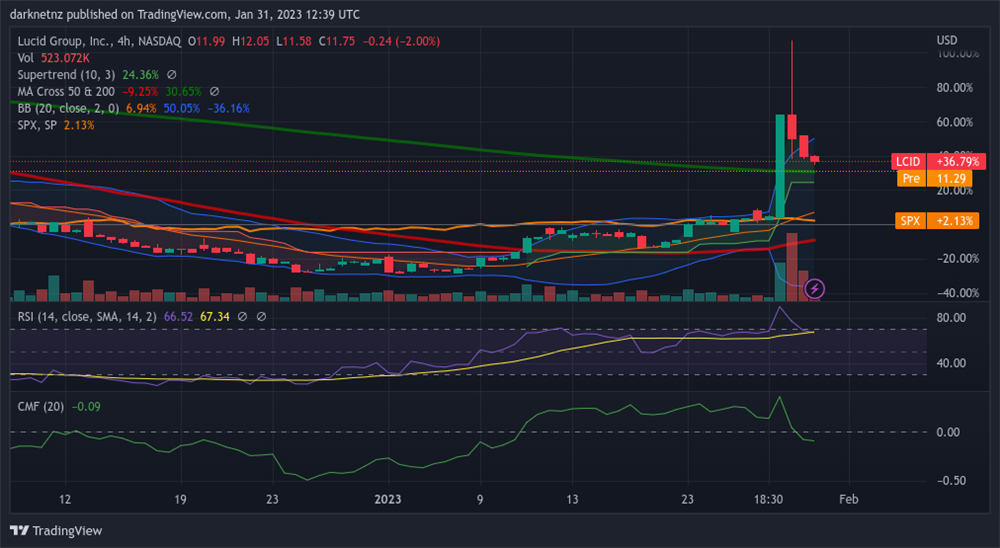 Lucid's momentum signal is no longer in the overbought territory on the four-hour chart. However, the CMF indicator shows that enthusiasm for the company is coming back down to earth again with declining bars of volume. As shorts get filled up this may accelerate the correction in its stock price toward its mean price.
The company's massive top wick seen last Friday shows how extensively the squeeze forced shorts to buy shares. But now it seems certain that bears will have their revenge with it falling sharply lower back towards the dynamic support and resistance zone of the 50-day SMA. 
BOA weighs in
Bank of America (NYSE: BAC) weighed in on Lucid Group following speculation of a potential buyout. The company currently has a price target on its share of $18 and considers it a buy.
BoA analyst John Murphy sits the idea of a buyout or funding round is not unexpected, as the Saudi Arabia Public Investment Fund already holds a 64% stake in LCID and can provide additional funding. The bank also noted that the troubled EV maker may have competitive advantages yet to be fully unlocked, such as its Lucid Air Grand Touring and management team.
Meanwhile, the consensus on Wall Street about Lucid Group is similarly positive in the long run. It currently has a consensus rating of Hold and a 64.1% potential upside, according to the MarketBeat consensus price target. Conversely, analysts also predict that its projected earnings growth will decrease from ($1.09) to ($1.28) per share.