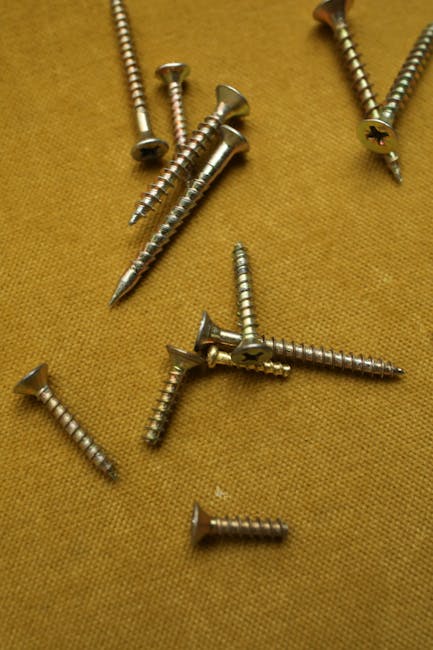 Photo by Polina Tankilevitch
Originally Posted On: The Most Common Types of Bolts (mudgefasteners.com)
Bolts are one of the most used fastener types in the world, finding usefulness in widely varied industries, from construction to automotive, manufacturing to renewable energy. By definition, a bolt is a fastener made up of a head at one end, a threaded shaft in the middle, and a chamfer (slightly bevelled edge which helps with inserting the bolt into nuts) at the other end.
While the terms "bolt" and "screw" are often used interchangeably, the primary difference between the two in general terms is that a bolt passes through a substrate and is captured on the other side by a nut, while a screw threads directly into the substrate.
Here are the most commonly used types of bolts and how they're used:
Anchor bolt
Anchor bolts, or "anchors" for short, are generally used in concrete or masonry for structural applications. There are many specialized anchors that can be used in cracked concrete per ICC code approvals.
Carriage bolt
Carriage bolts are generally used to attach metal to wood, and feature a square undercut to the head, helping hold the bolt in place after tightening.
Flange bolt
Flange bolts, sometimes known as frame bolts, are able to distribute the bearing load by utilizing a washer attached to the underside of the head.
Hanger bolt
Hanger bolts are threaded at both ends, with one tip featuring a wood screw point. Hanger bolts are often used in solar racking installation.
Hex bolt / Tap bolt
A hexagon bolt, almost always referred to as just a "hex bolt", is what most people envision when the word "bolt" is evoked. With a six-sided head, the bolts feature threading for a portion of the shank. When the threading fills the entire length of the shank in a hex bolt, it is then known as a tap bolt.
Lag bolt
Commonly and maybe more appropriately called lag screws, lag bolts create their own mating thread in wood and other materials when tightened.
Sex bolt
Instead of mating with a nut, sex bolts have a threaded shank that are then inserted into a mating female component. When the fastening components of an assembly cannot be exposed to abrasive threads, sex bolts are the part to use.
Square head bolt
A square head bolt is exactly what it sounds like it is… essentially a hex bolt but with a four-sided head instead of a six-sided head.
Stud bolt
Stud bolts feature hexagon nuts on both ends and operate by fastening components of the assembly between the two bolts.
T-head bolt
T-head bolts, also know as "hammerhead bolts", feature T-shaped head that is usually inserted into a slot. These types of bolts are often used when insertion into the slot presents an opportunity to lock the bolt into place upon tightening, such as in concrete embed channels.
Toggle bolt
Toggle bolts feature expanding nuts and are used to mount objects to walls where the side of bolt opposite the head cannot be reached once inserted.
U-bolt
U-bolts are shaped similar to staples, featuring a bent design that creates a "U" with partial threading on both ends.
Still not sure which bolt type is best for your application? Contact Mudge Fasteners and let one of our fastener experts help you decide.