--News Direct--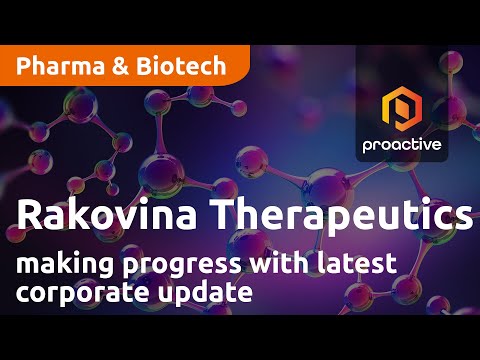 Rakovina Therapeutics Executive Chairman Jeffery Bacha joined Steve Darling from Proactive to discuss the company's corporate highlights as part of its second-quarter financial report.
Bacha highlighted several significant developments for the company during this period: including a publication in the Journal of Clinical Oncology.
Rakovina Therapeutics published a paper in the Journal of Clinical Oncology describing pre-clinical data for its lead pre-clinical candidate, kt-3283. This data demonstrates the potential of kt-3283 to treat cancers that are resistant to first-generation PARP inhibitors.
This development is crucial as it suggests that Rakovina's compound could address unmet medical needs in the treatment of various treatment-resistant cancers, including Ewing sarcoma.
Bacha also said the company presented at the American Association of Cancer Research. The company presented new preclinical in vitro and in vivo data at the annual meeting of the American Association of Cancer Research. This data demonstrated the potential of Rakovina's kt-3000 series in treating treatment-resistant Ewing sarcoma, a rare childhood tumor.
The kt-3000 series is a novel class of DNA-damage response inhibitors designed to selectively inhibit two important anti-cancer targets: poly(ADP) ribose polymerase (PARP) and histone deacetylase (HDAC).
These developments reflect Rakovina Therapeutics' commitment to advancing innovative treatments for challenging and resistant cancers. The company's research and progress in the field of cancer therapy offer hope for patients and represent significant strides in addressing unmet medical needs.
Contact Details
Proactive Investors
+1 604-688-8158
na-editorial@proactiveinvestors.com
View source version on newsdirect.com: https://newsdirect.com/news/rakovina-therapeutics-continues-to-make-progress-as-company-provides-corporate-update-777120554