--News Direct--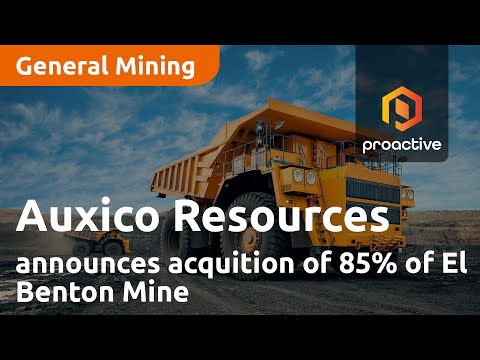 Auxico Resources CEO Pierre Gauthier joined Steve Darling from Proactive to to discuss the company's latest strategic move, as it has entered into a Memorandum of Understanding (MOU) to acquire an 85% equity interest in the mining title and rights to the El Benton Mine and adjacent Monte Verde concessions.
This acquisition marks a significant development for Auxico Resources, as it provides them access to a valuable mining asset with considerable potential. The El Benton Mine and Monte Verde properties collectively encompass approximately 739 hectares of land, strategically located in the Province of Ñuflo de Chavez, Department of Santa Cruz, Eastern Bolivia, and are situated just 200 kilometers from the city of Santa Cruz.
The El Benton Mine has a noteworthy history, having been a past-producing operation with all the necessary licenses to export tantalum and niobium concentrates.
Auxico Resources is now poised to revitalize this mine, with the aim of producing commercial niobium and tantalum concentrates. Additionally, the company intends to explore the lithium potential of the property, aligning with the increasing demand for lithium in various industries, especially as it plays a crucial role in the global shift toward clean energy.
Furthermore, Auxico Resources plans to optimize sorting processes to create concentrates of elements required for the transition to clean energy, thereby capitalizing on the growing market for these essential materials.
The acquisition of the El Benton Mine and Monte Verde concessions aligns with Auxico Resources' strategy to expand its mining portfolio and contribute to the development of critical materials needed in a sustainable and eco-friendly future.
Contact Details
Proactive Canada
+1 604-688-8158
na-editorial@proactiveinvestors.com
View source version on newsdirect.com: https://newsdirect.com/news/auxico-resources-announces-acquition-of-85-of-el-benton-mine-and-adjacent-monte-verde-concessions-833564200