--News Direct--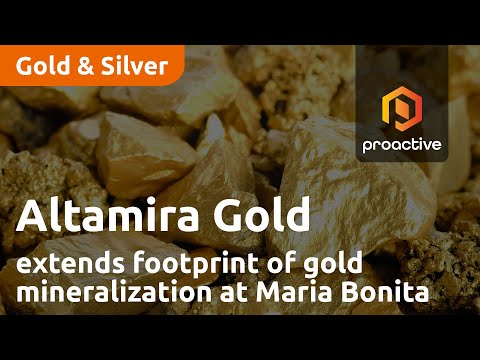 Altamira Gold CEO Michael Bennett joined Steve Darling from Proactive with an update on the company's ongoing exploration program at the Maria Bonita discovery located on the Cajueiro gold project in northern Brazil.
The company's exploration efforts have yielded positive results, with a deep motorized auger drilling program demonstrating an extension of gold mineralization in weathered bedrock in multiple directions around the mineralized area previously defined by initial diamond drilling.
The program comes after the successful completion of nine diamond drill holes, which include noteworthy results such as 69 meters at 1 gram per ton (g/t) in MBA005, 50 meters at 1.1 g/t gold in MBA004, and 45 meters at 1.4 g/t gold in MBA003, among others.
These findings highlight the significant gold mineralization potential in the Maria Bonita discovery area. In total, 47 auger holes were completed, covering an aggregate distance of 430 meters.
Among the samples obtained, 83% of the total holes drilled exhibited gold mineralization exceeding 0.5 g/t gold.
The company is now planning a second-stage diamond drill program aimed at exploring the lateral and vertical extents of the mineralized intrusive body. Additionally, further auger drilling will be conducted to define the limits of the mineralized system, which, importantly, remains open in multiple directions and at depth.
Altamira Gold's ongoing exploration endeavors and the promising results obtained so far reflect its commitment to advancing the Cajueiro gold project and unlocking its full potential as a valuable gold asset. The company's strategic focus on exploration and resource expansion positions it well to capitalize on the continued growth in the gold sector.
Contact Details
Proactive Canada
+1 604-688-8158
na-editorial@proactiveinvestors.com
View source version on newsdirect.com: https://newsdirect.com/news/altamira-gold-extends-footprint-of-gold-mineralization-at-maria-bonita-with-drill-results-813527003