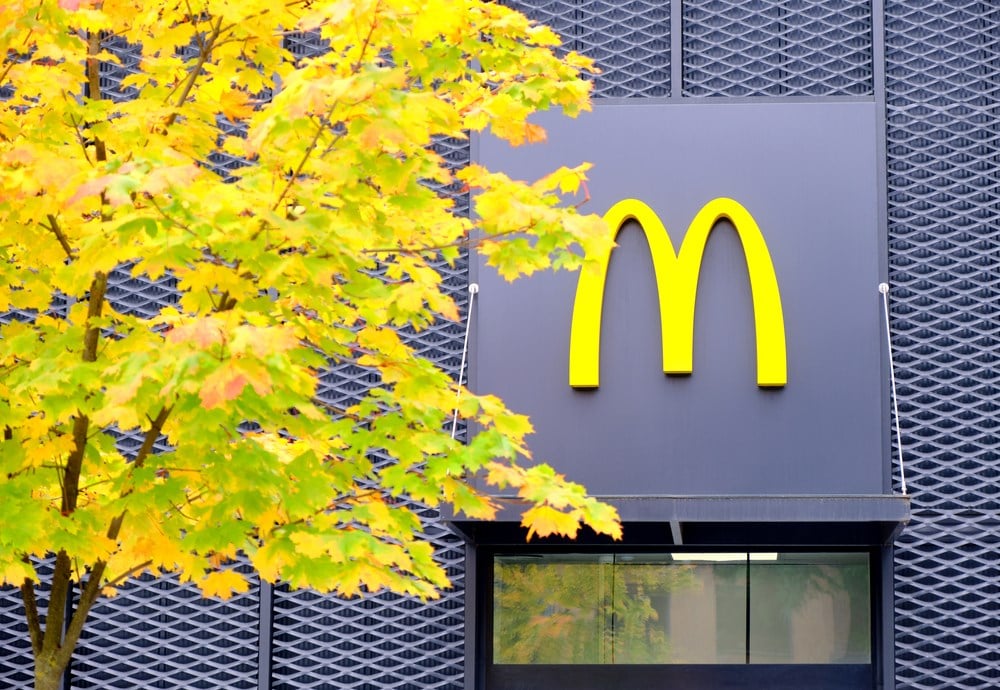 Which burger joint has the best fries is debatable, but there's no debating that Arcos Dorados Holdings Inc. (NYSE: ARCO) is the hottest stock in fast food. Arcos Dorados translates to "Golden Arches" in English. 
The world's largest independent McDonald's franchisee climbed as much as 56% off its April 6 low this month amid a growing Latin American appetite for quick service restaurant (QSR) food. The mid-cap's under-the-radar ascent to a nine-year high comes when most domestic QSR stocks struggle to surpass their 2023 highs. 
Over the last three months, McDonald's has advanced a mere 2%. Wendy's is down 3%. Up 13%, Burger King parent Restaurant Brands International has fared better — but not nearly as well as Arcos Dorados' 29% increase.
The huge disparity in recent returns stems from a breakout earnings report at Arcos Dorados and hopes for more to come in 2023. Systemwide comparable sales rose 38% year-over-year in the first quarter driven by an uptick in guest volume. Much of the growth came from digital channels — delivery, mobile app and self-order kiosks — which accounted for nearly half of systemwide sales. 
Thanks to an expanding profit margin, earnings per share (EPS) jumped 50%. By comparison, McDonald's grew its first-quarter profits by 15%.  
While the difference has much to do with the timing of U.S. and Latin American Covid recoveries, it also relates to the rising adoption of digital ordering platforms in Brazil and other parts of Latin America. 
The ongoing buildout of broadband internet and increasing smartphone usage give consumers greater access to online food and grocery ordering. On a monthly average, more than 15 million people use the Arcos Dorados' mobile app, which is nearing its 100 millionth download. As this customer base grows, so should the company's data analytics and guest personalization capabilities.   
What Are Arcos Dorados' Growth Drivers?
Also the largest restaurant chain in Latin America, Arcos Dorados' growth story goes beyond technological advancement. Adding more restaurants and drive-thrus to the footprint is also a big focus. 
This month, the company opened its 223rd McDonald's location in Argentina. It also launched a Japanese-themed McDonald's in Brazil to recognize the growing Japanese community there. The clever idea could give McDonald's USA something to consider if successful. With America's melting pot of many cultures, themed restaurants could offer customers a fresh vibe and help stimulate growth. 
Arcos Dorados has over 2,300 McDonald's across 20 Latin American and Caribbean countries. Approximately 70% of them are company-operated, and the remainder franchised. 
The company is also tapping into the McDonald's playbook by rolling out new menu items to generate growth. Last quarter, it launched a premium beef burger called Brabos and a McCrispy Chicken Legend in its primary Brazilian market. Fast food lovers in Mexico and Costa Rica were introduced to the Big Mac Chicken, while Chileans learned about a new Signature Turbo Tasty value menu.
Like McDonald's, connecting with the younger generations is part of Arcos Dorados' growth strategy. It recently sponsored Argentina's version of Lollapalooza and other youth-focused music festivals in the region.
Are Arcos Dorados Shares Still Undervalued?
Based on Wall Street's estimate for this year's EPS, Arcos Dorados is trading around 14x earnings. This makes it one of the cheapest QSR stocks on the market. McDonald's trades at 27x, as does Taco Bell and Pizza Hut parent Yum! Brands. Wendy's and Restaurant Brands go for 22x and 25x 2023 earnings, respectively.
The stock's 1.5% dividend yield should also put Arcos Dorados on investors' value menu. 
The small group of analysts that cover Arcos Dorados are bullish, although their current price targets point to little upside. The company's August 17 second-quarter earnings report could change that. 
The stock may represent a golden opportunity for investors to gain exposure to Latin American consumer growth at current prices.