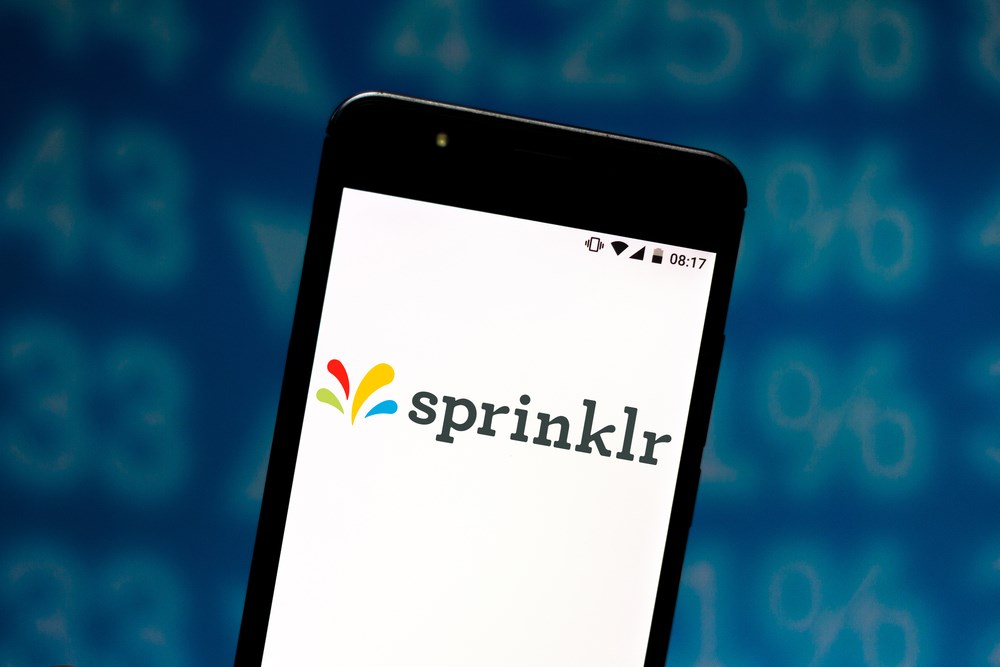 In today's market, it would seem that every stock and company with the word 'technology' entrenched in its business model is enjoying a significant rally this month; the new sentiment comes from the breakthroughs seen during NVIDIA's (NASDAQ: NVDA) last quarterly performance.
Shares of NVIDIA rose by as much as 42.3% during the week after the company announced its first quarter 2023 earnings results, beating past virtually all estimates and performance expectations, a feat the company attributes to its artificial intelligence enhancing chips and the new wave of demand in the underlying space.
A company rose by as much as 36.3% during the past month as well. However, this one started its rally long before NVIDIA kickstarted an industry-wide buying spree. Sprinklr (NYSE: CXM) just received a wave of price target upgrades after the company posted its dramatic growth and profitability metrics during the first quarter of 2023. 
Morgan Stanley (NYSE: MS) has assigned a $16 price target as of June 6; Cantor Fitzgerald has also followed suit by giving a $17 price target. The joint decisions by street analysts come from the valuation boost the company achieved by its financial momentum showcased during the first quarter.
The Momentum Behind the Results
Sprinklr's stock, CXM, has outperformed its closest competitors during the past twelve months, partly aided by the recent rally sparked by bullish results. Names like Asana (NYSE: ASAN) and Sprout Social (NASDAQ: SPT) were left behind by as much as 41.3% as far as the year goes; Sprinklr's chart will show that the outperformance came a whole quarter before the earnings-induced rally. The outstanding stock performance continues beyond there, as Sprinklr's financials have an equally vital show to give shareholders. 
It is typical for a company going through its early 'growth stage' to have absent - or inconsistent - net income. Sprinklr is no exception to this norm. However, the loss depth is less entrenched in the company's business model than it would be for its competitors.
Sprinklr delivered a negative 3.5% ROIC (Return on Invested Capital) during the past twelve months, while Sprout Social underperformed here by providing a negative 20.4% ROIC. Asana does not fall far behind; in fact, it takes the podium for posting the most profound loss at negative 43.8% ROIC.
Sprinklr shareholders are a couple of good quarters away from net profitability, where the real benefits of being an equity investor begin to flourish.
Sprinklr's press release would reflect a satisfying quarter compared to the same period in 2022. Total revenue grew to $173.4 million, sporting a 20% year-on-year growth rate.
What is more important to note is the subscription revenue, as it is deemed 'recurring' and thus more stable and able to command a higher valuation multiple; subscription revenue grew by 24% during the year as the value proposition in membership was accurately delivered to users.
The Real Dry Powder
By Sprinklr being a $3.6 billion company, as measured by market capitalization, its size would barely place it above 'small cap' status (where companies below $3 billion fall into). Despite being a relatively small company, it has achieved significant milestones in becoming a fully profitable operation. Investors can get a sense of just how close the company may be to announcing its first profitable year, as the business's cash flow statement will act as a reliable source of truth. 
Cash flows from operations grew to $18.6 million in 2023, compared to negative $2.9 million in 2022. Capital expenditures were $1.6 million, leaving management with approximately $17 million in free cash flow, which can be allocated to significantly beneficial value-creation activities.
This figure is higher than the company's reported net income, which was said to be $2.8 million, or $0.01 per diluted share. The discrepancies between free cash flow and net income can be attributed to items like stock-based compensation, which in this case represented a $13.3 million charge severely offsetting the company's 'true' earning power. 
Analyst targets may be enough for investors to begin to trust Sprinkler's value thesis; realizing just how much earning power the business generated ($17 million) could be another.
Nonetheless, it all comes down to tested valuation methodologies. As the peer group has yet to achieve a full year of net profitability, these companies can be valued on a multiple-of-sales basis.
Sprinklr stock currently sells at a 4.1x price to sales multiple, which is increasingly based on recurring subscriptions carrying significant growth rates, sure enough, a sign of room to move up.
On the other hand, Sprout Social trades at an 8.3x multiple, similar to Asana's 7.9x, thus evidently placing Sprinklr as the cheaper alternative in the peer group despite being the closest to a fully profitable year.