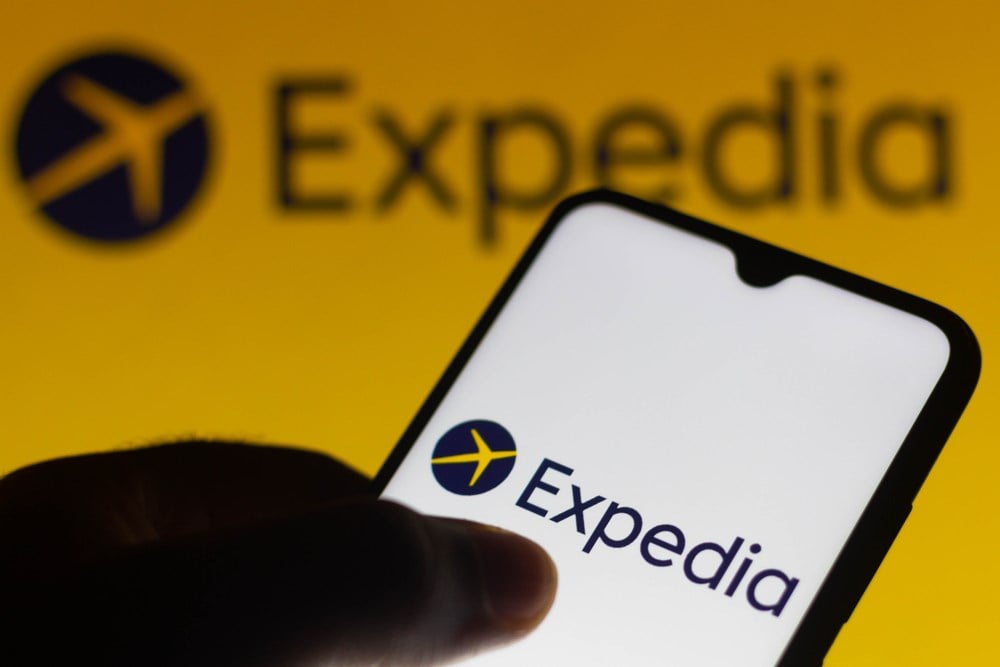 Online travel and booking platform Expedia Group Inc. (NASDAQ: EXPE) is benefiting from the robust travel demand generating record revenues but still needs to catch up in profits and valuation. The travel and leisure industry was the epicenter during the pandemic but is seeing positive normalization across the board, from airlines to lodging to vacations. This is anchored by pent-up demand and the shift in consumer discretionary spending to services from goods, which has a long runway despite a challenging macro backdrop.
The Asian re-opening has sparked and driven robust international travel demand. Expedia completed the integration of hotels.com, adding to its portfolio of travel booking sites, including vacation and BnB lodging platform VRBO. Expedia competes with travel booking platforms Booking Holdings Inc. (NASDAQ: BKNG), TripAdvisor Inc. (NASDAQ: TRIP) and Airbnb Inc. (NASDAQ: ABNB).
AI and ML Integration
Large language models may be impactful in facilitating travel shopping. Expedia accelerated testing and integration of artificial intelligence (AI) and machine learning (ML) into its iOS application using Microsoft Co. (NASDAQ: MSFT) co-owned ChatGPT. The company launched the Expedia plugin for ChatGPT. It's also been deploying AI and ML in "almost all customer experiences." Ai is used to automate, customize, filter and sort to provide customers with the most relevant shopping experience. The platform utilizes AI to deliver price predictions, enable comparison shopping, help self-serve consumer problems and enhance customer service agents' abilities to address issues more quickly.
Strong Top Line, Bottom Line Still Lagging
On May 4, 2023, Expedia released its fiscal first-quarter 2023 results for March 2023. The company reported an earnings-per-share (EPS) loss of ($0.20) versus consensus analyst estimates for a profit of $0.03, missing estimates by $0.20. Gross. Revenues rose 18.5% year-over-year (YOY) to a record $2.67 billion, beating analyst estimates of $2.66 billion. Total gross bookings increased 20% YoY to $29.4 billion. Lodging bookings hit a record $21.1 billion. B2B revenues rose 55% to $668 million. Expedia generated record net cash of $3.2 billion and a record free cash flow of $2.9 billion. The company bought back $600 million of stock or
CEO Insights
Expedia CEO Peter Kern underscored that the robust travel demand drove Expedia to have the highest-ever quarter for lodging bookings, free cash flow and revenues. He noted that the consumer has been powerful despite calls for a potential economic recession as they prioritize travel over other forms of discretionary spending. The re-opening in Asia accelerated consumer demand as it accelerated with international and big-city travel.
The re-opening of major cities drove hotel demand. Air travel demand has shifted to international, away from the pandemic era, concentrating on domestic travel. Air travel prices have continued to rise due to solid demand stripping supply. Expedia's active loyalty member base grew 25% YoY, and gross bookings through its app doubled since 2019. The last drag from the migration of hotels.com to the Expedia platform is in the rearview mirror as hotels.com is back in growth mode, indicated by the 20% YoY bookings growth.
CEO Kern commented, " We also saw strong growth in B2B driven by an expanding partner base and growth from our existing partners. Our performance was enhanced by greater testing velocity and accelerating deployment of AI and ML, including our recent integration of ChatGPT into our iOS experience." He also added, " He also added, "With our strategy gaining momentum, we saw the opportunity to continue to buy our equity attractively." This led to the $600 million stock buyback or nearly six million shares year-to-date (YTD). On May 16, 2023, Gordon Haskett raised its rating on Expedia shares to a Buy from Hold.
Expedia analyst ratings and price targets can be found on MarketBeat.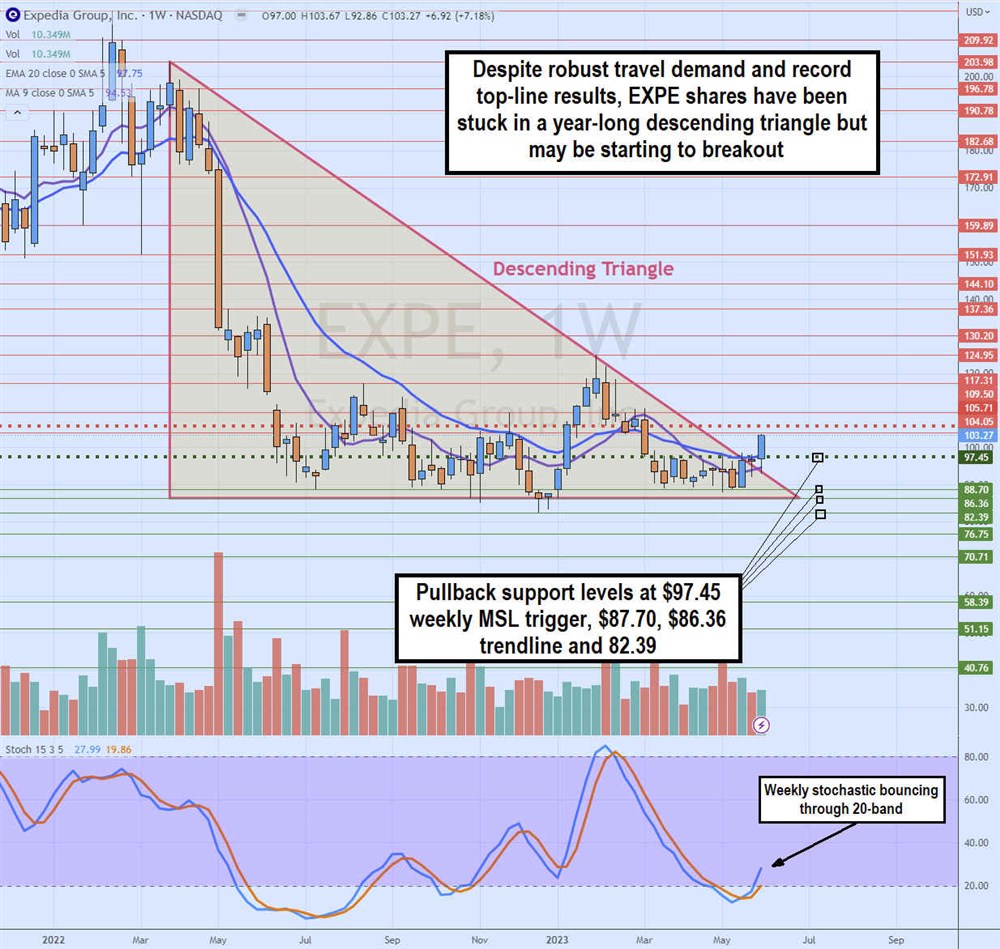 Weekly Descending Triangle
The weekly candlestick chart on EXPE illustrates the 14-month descending triangle that commenced after peaking at $209.92 in March 2022. Shares cascaded lower until hitting bottom at $86.36, forming a flat-bottom triangle trendline at $88.70. EXPE finally triggered a weekly market structure low (MSL) breakout through $97.45 to rally and peak at $124.95 in January 2023, creating the descending trendline that stuffed each bounce attempt with a lower high. 
EXPE triggered a weekly market structure high (MSH) sell trigger on the breakdown under $104.05 as shares fell towards the flat-bottom trendline but managed to hold $88.70 support. EXPE attempts to break out of the descending triangle as it triggers the weekly MSL breakout though $97.45, again powered by weekly stochastic mini pup through the 20-band. Pullback support levels are $97.45 weekly MSL trigger, $87.70, $86.36 flat-bottom trendline and $82.39.