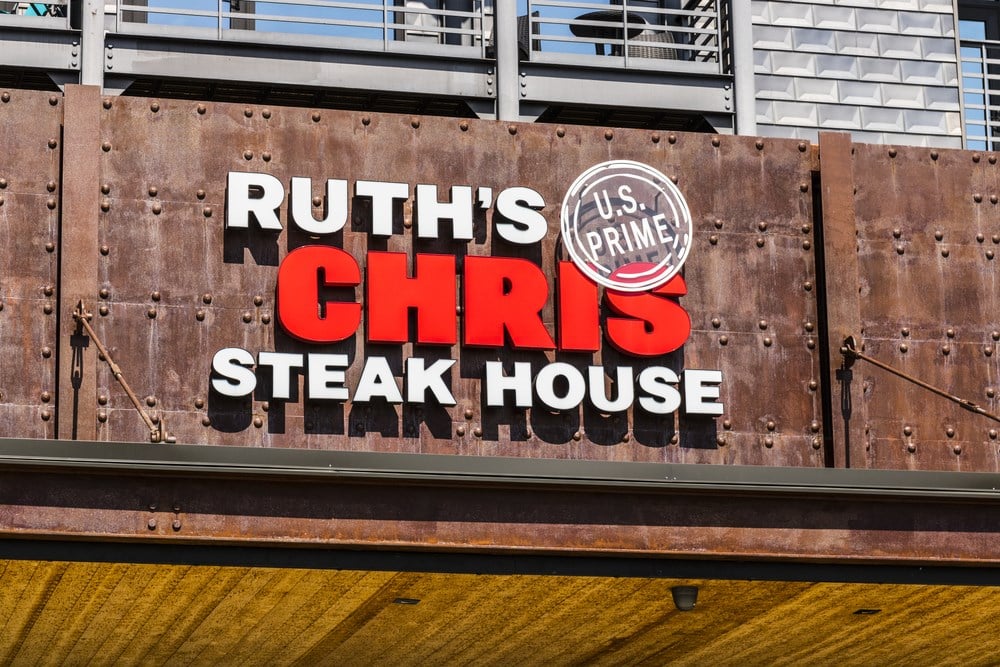 Shares of Darden Restaurants Inc. (NYSE: DRI) have been trading in a sideways range, forming a flat base and not budging much after the company announced it was gobbling up Ruth's Hospitality Group (NASDAQ: RUTH), parent company of the Ruth's Chris Steak House chain.
Darden had been seeking a fine-dining addition to its brand portfolio, according to restaurant trade publication Restaurant Business. It was also looking for a property that would grow faster than Olive Garden, whose sales increased by about 14% in the most recent quarter. 
In a joint announcement, the companies said Darden would acquire all of the outstanding shares of Ruth's for $21.50 per share, in an all-cash transaction with a total equity value of approximately $715 million.
Expected To Increase Darden Earnings
The deal is expected to be accretive to Darden's diluted net earnings per share in fiscal year 2024 by approximately $0.10 to $0.12 a share, excluding acquisition and integration-related expenses.
Darden reported earnings of $7.40 a share last year. This year, that's expected to increase to $7.98 a share, a gain of 8%. In its most recent quarterly report, in March, the company increased its full-year revenue outlook to $10.45 billion to $10.5 billion, up from its previous range of $10.3 billion to $10.45 billion.
Ruth's is expected to earn $1.28 a share this year, down slightly from 2022. 
The company operates 154 locations worldwide, including 80 company-owned or operated sites and 74 franchised restaurants. In 2022, total revenue was over $500 million. 
Ruth's stock is out of play at this point; once an acquisition is announced, stocks typically gap up, to the price the buyer is paying, and won't move any higher. The only exceptions occur when a deal is canceled or delayed for months, perhaps for regulatory reasons.
"Moderate Buy" Rating
Darden analyst ratings show a "moderate buy" rating on the stock, with a price target of $160.23, an upside of 6.59%. There have been no analyst actions on Darden stock since the deal was announced. 
Unlike some acquisitions that drag out for months, the Ruth's deal is expected to close in June. 
Growth through acquisition is common in the restaurant industry. While some of Darden's concepts were developed in-house, many, including Longhorn Steakhouse, Cheddar's Scratch Kitchen, Yard House, Capital Grille and Eddie V's were acquired. 
While there have been some standouts among restaurant stocks this year, including Chipotle Mexican Grill Inc. (NYSE: CMG) and Wingstop Inc. (NASDAQ: WING), the industry may be ripe for consolidation. A number of deals were done last year. The majority involved private equity, rather than publicly traded companies, although a private company acquired several franchise locations of The Wendy's Co. (NASDAQ: WEN) and McDonald's Corp. (NYSE: MCD) acquired one of its own franchise groups, which operates 60 restaurants. 
All-Cash Transaction
In the statement announcing the deal, Darden noted that it has sufficient liquidity to complete the all-cash transaction without additional financing. In wording designed to reassure investors, the statement said, "Darden expects to continue to maintain a strong balance sheet and have sufficient capital to achieve its stated capital allocation priorities of maintaining existing restaurants, growing new restaurants and returning capital to shareholders through dividends and strategic share repurchases."
Darden has a $1 billion revolving line of credit at Bank of America, as well as bonds with maturities ranging from 2027 to 2048.
With further debt issuance off the table for the Ruth's Chris acquisition, investors can focus on the success of the deal itself, and whether it is indeed accretive as early as forecast. 
Dividend Increases
In the meantime, the Darden dividend yield of 3.22% is an attractive feature for investors. The company had a long history of raising its dividend until 2020, when it was slashed. In 2021 it was restored to a level higher than 2019's payout. The dividend was increased in 2022 and again this year.
Darden also has a share repurchase program with no expiration date. In the most recent quarter, it repurchased $124 million of its outstanding common shares. 
Since the Ruth's deal was announced, Darden shares have chopped around above their 50-day average, continuing to form a flat base. The impact of the acquisition is most likely to be seen when the company reports revenue and earnings that include Ruth's.