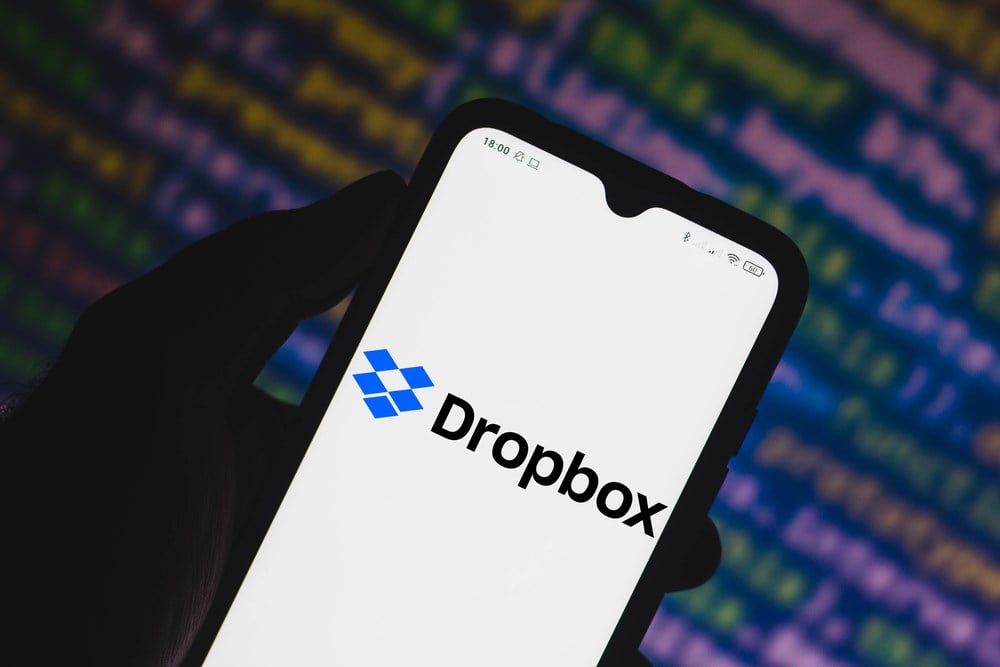 Dropbox Inc. (NASDAQ: DBX) has evolved from a cloud storage provider to a file-sharing, synchronization and workflow collaboration platform. The company also has its own document e-signature protocol. The pandemic caused many workers to take on remote freelance and contract work. Dropbox appeals to this and the small business demographic as its tools enable workers to collaborate and share files and projects with colleagues and clients through its Smart Workspace application. It works with many popular business software applications like Microsoft Co. (NASDAQ: MSFT) Office, Zoom Video (NYSE: ZM), and Adobe Inc. (NASDAQ: ABDE).
Boosting Enterprise Features
Dropbox is leveraging artificial intelligence (AI) and machine learning into its product roadmap. The company has expanded its enterprise base with acquisitions like Capture and FormSwift. The platform is simple to use and has cross-platform compatibility. It also integrates seamlessly with other third-party work collaboration programs. Dropbox becomes one of those set-it and forget-it type services that seamlessly synchronizes files while you do business.
Competitive Layout
Its file synchronization feature ensures that users have the newest version of files and copies of earlier versions, enabling them to restore or recover files. Its massive user base spans over 600 million users in 180 countries worldwide. It competes with Box Inc. (NYSE: BOX) in the enterprise storage business but also with more prominent players like Smartsheet Inc. (NYSE: SMAR), Asana Inc. (NASDAQ: ASAN), Salesforce Inc. (NYSE: CRM), and Atlassian Corp. (NASDAQ: TEAM) on the work collaboration software side. Users who want more features and comprehensive solutions may stick with Microsoft Teams or Salesforce's Slack, which have embedded task management features, messaging and videoconferencing.
Beat and Raise
On Feb. 16, 2023, Dropbox released its fiscal fourth-quarter 2022 results for the quarter ending December 2022. The company reported an earnings-per-share (EPS) profit of $0.40, excluding non-recurring items, versus consensus analyst estimates for a $0.39, a $0.01 beat. Revenues grew 5.9% year-over-year (YoY) to $598.8 million, beating analyst estimates of $593.34 million. The total average run rate (ARR) rose 11.2% YoY to $2.514 billion. Paying users were 17.7 million, up from 16.79 billion in the year-ago period.
The average revenue per user (ARPU) fell to $134.53 from $134.78 in the year-ago period. However, FX headwinds impacted ARPU by $4.20. When backed out, Dropbox generated 3% YoY in constant currency. GAAP gross margin rose to 80.7% from 79.5% in the year-ago period. The company ended the year with $1.343 billion in cash and cash equivalents.
Dropbox Co-Founder and CEO, Andrew Houston commented, "We increased our profitability and free cash flow and continued to use M&A as an engine for growth, welcoming FormSwift to Dropbox. Looking ahead to 2023, we remain focused on executing against our strategic objectives, improving our operational efficiency, and continuing to leverage advancements in AI and ML into our product roadmap as we work towards our mission of designing a more enlightened way of working."
Upside Guidance
Dropbox raised its fiscal Q1 2023 revenue guidance to $600 million to $603 million versus consensus analyst estimates of $589.97 million. The company raised its full-year 2023 revenue guidance to $2.475 billion to $2.49 billion versus analyst estimates of $2.44 billion.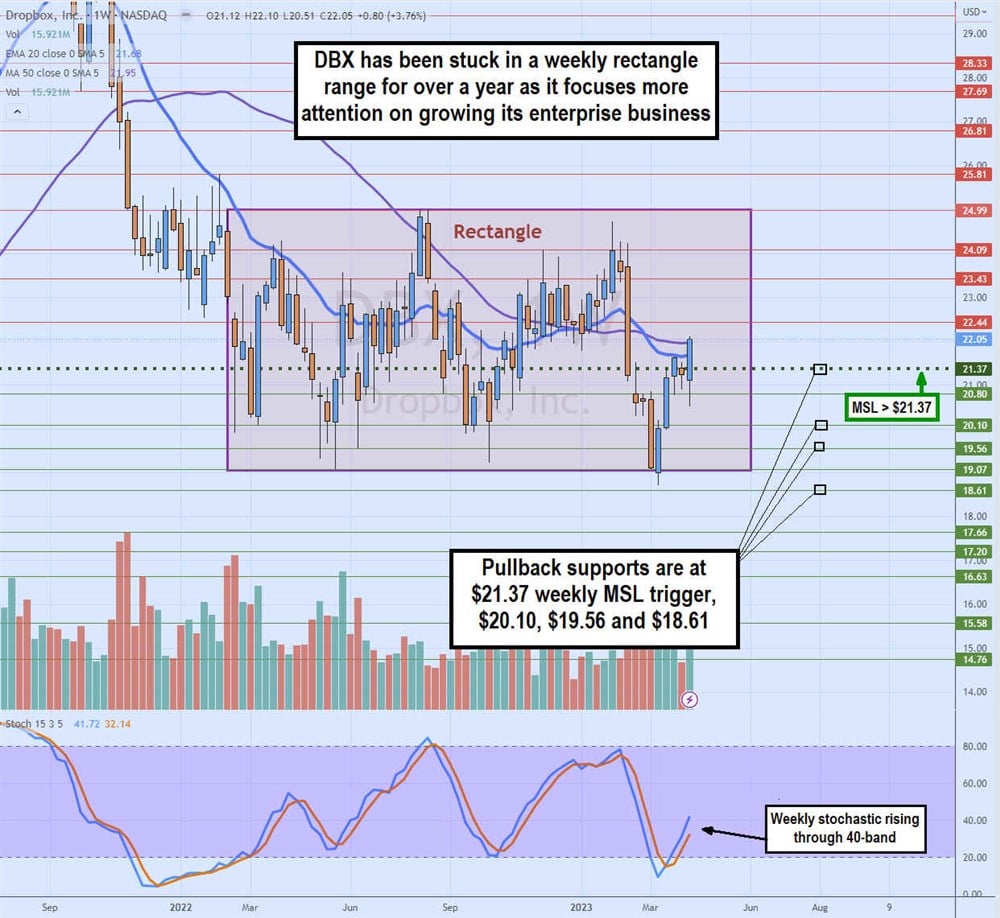 Weekly Rectangle Range
The weekly candle stick chart on DBX illustrates the year-long rectangle trading range between the upper trendline at $24.99 and the lower trendline at $19.07. The rectangle commenced in February 2022 as the shares peaked at $24.99 and fell to $19.07 by May 2022. Since then, DBX shares have tested the upper and lower ranges multiple times.
The recent re-test overshot the lower trendline to fall to a low of $18.71 in March 2023 before it slingshot back up, triggering the weekly market structure low (MSL) trigger above $21.37 as it blew past the weekly 20-period exponential moving average (EMA) resistance at $21.68 to test the weekly 50-period MA resistance at $21.95.
The weekly stochastic is rising through the 40-band. Pullback support levels are $21.37 weekly MSL trigger, $20.10, $19.56 and $18.61.