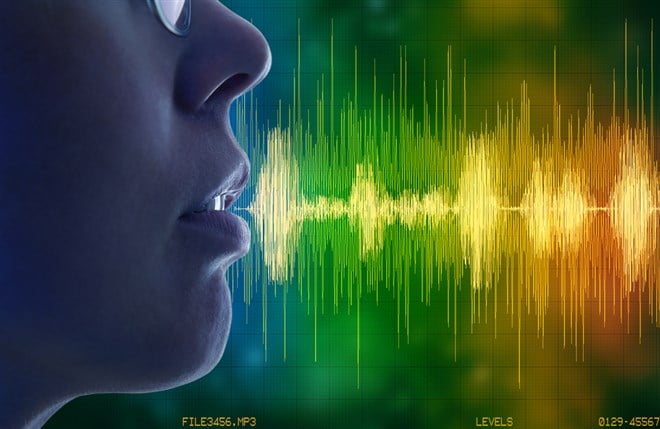 SoundHound AI Inc. (NASDAQ: SOUN) stock has garnered some spotlight in the artificial intelligence (AI) mania of 2023. Microsoft Co. (NASDAQ: MSFT) multi-billion dollar investment in OpenAI has rocked the venture capital and private equity world. While ChatGPT has attracted the attention of the public, investors are rabidly seeking out alternate AI plays like C3.ai Inc. (NASDAQ: AI), the world's largest RPA and BPA platform provider UiPath Inc. (NASDAQ: PATH), and decision support and analytics platform provider BigBear.ai (NASDAQ: BBAI).
SoundHound is a voice and audio AI platform. It provides end-to-end voice AI solutions, including automatic speech recognition, text-to-speech, multiple languages, and branded wale words. Its mobile app utilizes Automatic Content Recognition (ACR) technology to identify songs after hearing a few bars, like the Shazam app.
It also provides more features, including real-time lyrics, voice-activated music search, and Houndify, the virtual voice assistant.
SoundHound Voice AI The Company
SoundHound AI went public through a reverse merger with a special purpose acquisition company (SPAC) Archimedes on April 28, 2022. It peaked during the second week of trading at $18.14 before falling all the way down to $0.93 on Dec. 22, 2022. The hype about generative
AII that produces content has been all the rage. However, instead of a text chatbot, SoundHound's Voice AI platform lets customers have conversational experiences, including branded voice. It's especially useful in hands-free situations like driving or ordering restaurant takeout while jogging.
Voice AI could be the next big thing when you look at the stats. SoundHound expects 90% of all new vehicles will include voice assistants. Over 75 billion connected devices will be operating globally by 2025, and voice AI can be used to control them. It's expected that 94% of large corporations will use Voice AI in the near future.
Shares have been in the spotlight since the Jan. 26, 2022, Airmeez, a cloud-based customer interaction platform, announced integrating SoundHound's voice AI technology in its virtual assistants.   
SoundHound Voice AI The Technology
While voice recognition technology has been around for decades, SoundHound AI has innovative engineering making it more efficient and quicker. Rather than record speech and then interpret it in writing, SoundHound uses Speech-to-Meaning real-time translation of spoken language and its meaning.
It's quicker and can correct itself before the final translation. It's Natural Language Understanding (NLU) uses Deep Meaning Understanding technology, enabling it to learn and interpret complex language patterns. It processes speech like the human brain in over 25 different languages. Some applications include intelligent transcriptions, scanning and reporting copyrighted material, call center customer service, intelligent voice assistants, restaurant ordering, carryout, and takeout.
SoundHound Voice AI The Financials
The Company preannounced preliminary 2022 results on Jan.24, 2023. It expects revenues of $31 million, which they point out is the high end of its prior guidance. Gross margins were above 80%. SoundHound expects revenues to accelerate 50% year-over-year (YoY) in 2023, with over $300 million in bookings.
SoundHound AI targets positive GAPP operating cash flow by the end of 2023. The Company closed a $25 million preferred convertible offering on Jan. 20, 2023. The preferred equity is convertible into Class A common stock under certain conditions. It will automatically convert on the one-year date of its issuance if shares are above certain price levels. The combination of financing and expense reductions will result in over $60 million in cost savings.
Notable Customers
SoundHound AI had many notable bookings for 2022. It includes an agreement to bring SoundHound voice AI to chipmaker Qualcomm Technologies Inc. (NASDAQ: QCOM) Snapdragon Platforms. It expanded its existing partnership with social media provider Snap Inc. (NASDAQ: SNAP). It had new deals with Block Inc. (NYSE: SQ), VIZIO , and Toast. The Company signed multi-year agreements with automakers Hyundai, expanded its relationship with luxury auto giant Stellantis NV (NASDAQ: STLA), and collaborated with various manufacturers in the automotive space, including LG, Harmon International, DMI, and DPCA.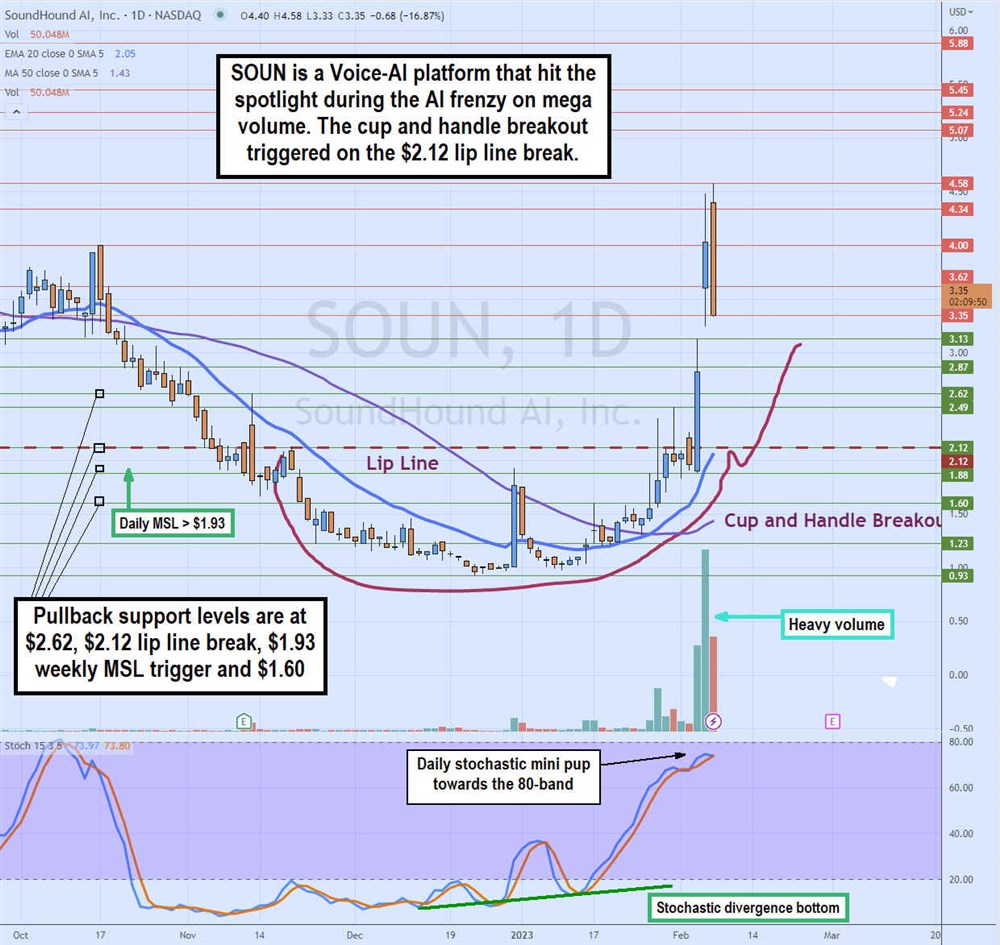 Daily Cup and Handle Breakout
SOUN daily candlestick chart indicates a cup and handle breakout. The lip line was made at $2.12 on Nov. 18, 2022, as shares sold off to hit a low of $0.93 a month later. The daily stochastic divergence bottom formed to cause a weekly market structure low (MSL) trigger and breakout at $1.93. The daily stochastic formed a complete oscillation towards the 80-band bring up the shares back up to retest the lip line on Jan. 31, 2023, and breakout after a shallow handle pullback on Feb. 3, 2023. The exponential weekly 50-period moving average (EMA) support is rising at $2.06, followed by the weekly 50-period MA at $1.43. Pullback support levels sit at $2.62, $2.12 lip line, $1.93 weekly MSL trigger, and $1.60.