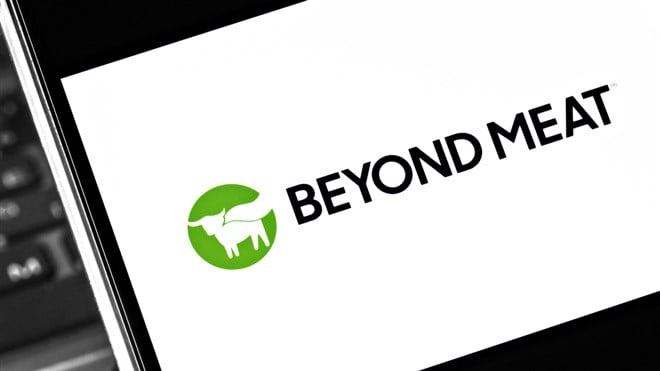 Anything seems possible in this risk-on market, and Beyond Meat, Inc. (NASDAQ: BYND) is a prime example. The maker of Impossible brand plant-based meats has seen its stock surge nearly 60% to start the year — and may still be pre-heating.
As traders seek out tickers with the biggest gain potential, many of last year's biggest losers are quickly becoming 2023's, early winners. Carvana, C3.ai, Coinbase, Peloton and Wayfair are already up more than 100% year-to-date following dismal 2022 returns.
With the market's appetite for risk high, Beyond Meat looks destined to join the ranks of early doublers. 
For starters, the short squeeze potential is huge. Nearly 40% of Beyond Meat's 57 million share float is short. This year's rally has come with modest volume, but that may change. Buyers turned up the heat on short sellers last week as 22 million shares were traded, the most since the third week of September 2022. 
Beyond the short squeeze story, there's a company trying to rediscover favor with investors. This coincides with Beyond Meat finding its way into more restaurants and supermarkets, ultimately winning over consumers.
What Are the Challenges Facing Beyond Meat?
It wasn't long ago that plant-based meats were all the rage. As the pandemic spotlighted healthy eating habits, a curiosity around vegan meat alternatives became a trend. In recent quarters, however, demand for Beyond Meat products has faded. This suggests that one-time "try it out" purchases drove interest and that consumers have grown tired of Impossible burgers and sausages.
Part of this likely relates to the economic reopening. As restaurants reopened their doors and people began spending less time cooking at home, the novelty of Beyond Meat wore off. Since inflation took over as a driving force in consumer spending decisions, expensive meat alternatives got further wiped from the budget. 
In turn, Beyond Meat began lowering prices to try to win back shoppers but it only hurt itself. With the demand not there, the combination of lower volume and lower prices spelled doom. At the same time, the company's customers began paring back inventories, compounding a period of slowing sales. And as input, labor and logistics costs rose, the net losses widened.
What Is Beyond Meat's Turnaround Strategy?
Beyond Meat is turning its attention to five major grocers to reinvigorate its retail sales. According to the Wall Street Journal, the company is putting Costco, Kroger, Publix, Walmart and Whole Foods at the center of its strategy to get its products into places that generate the most traffic. The shift likely comes at the expense of gaining exposure at smaller retail chains and local butcher shops, but it is one management is counting on to reverse four straight quarters of revenue declines. After falling 22% in Q3, sales are expected to have declined 25% last quarter.
Beyond Meat is hoping more streamlined operations will lead to a consistent marketing message and better financial results. As part of this effort, the company added former Red Bull executive Akerho Oghoghomeh to lead its global marketing campaign. The new hire faces an uphill battle because U.S. refrigerated meat sales were down 15% last year.
Restaurants are still a big part of Beyond Meat's growth strategy, so it will continue to lean on McDonald's. The company is reportedly working on a new plant-based chicken nugget to offer eaters a vegan alternative to the popular McNugget.
Whether fast food eaters will pay up for a 'healthier' nugget remains to be seen, but the launch could either be a big bust or a big success. Beyond Meat's McPlant burger experiment has worked well in some countries but failed in others.
Is it a Good Time to Invest in Beyond Meat Stock?
Since listing on the Nasdaq, Beyond Meat has experienced some extreme ups and downs. It is this volatility that attracts some investors and keeps others away. Getting involved in the stock here comes down to two avenues.
Short-term traders interested in riding a downtrodden stock with improving momentum could have a fast gainer on their hands. A short squeeze would certainly accelerate the current uptrend, which could come when the company reports Q4 results later this month.
The numbers will likely be ugly, but an upbeat tone around the new strategy (or simply attention on the company) could spark a squeeze. 
Longer-term investors must have conviction toward the management team and its growth strategy. While the focus on a core set of grocers and McDonald's makes sense, consumers will ultimately have to fall back in love with the products. Improved taste, more comparable pricing, a fresh vegan movement or some other catalyst must drive shoppers and diners to Beyond Meat. 
Where this volatile stock goes from here is anyone's guess. Some will end up feeling full; others will get burnt.