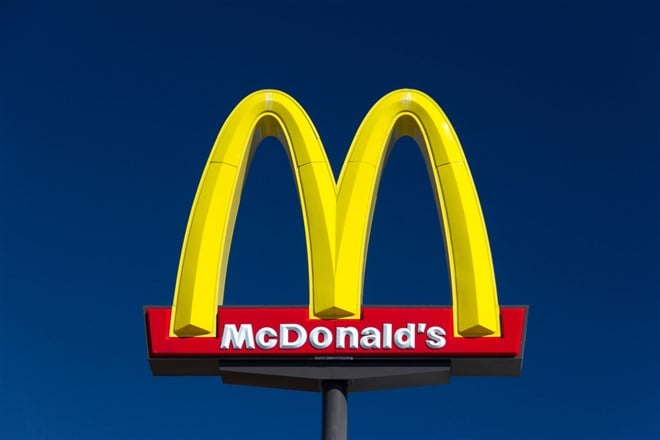 McDonald's Corporation (NYSE: MCD) is down 0.5% in early trading as the fast-food giant says inflation will drag operating margins in 2023.  
That's detracting from an otherwise bullish earnings report. The company beat on both the top and bottom lines. Revenue came in at $5.93 billion, which was higher than forecasts for $5.75 billion. On the bottom line, the news was equally encouraging. The company delivered adjusted earnings per share (EPS) of $2.59 compared to the $2.44 that was forecast.  
After hitting an all-time high in November 2022, MCD stock has been consolidating. The initial reaction from investors is bringing the stock down to a support level of around $270. If it can hold that level and gets a little help from the Fed, McDonald's could likely rally to challenge its all-time high.  
Still Lovin' It 
Investors should always pay more attention to what consumers do and less to what they say. This is particularly true when it comes to McDonald's.  
Many consumers will say they don't frequent fast-food restaurant. But the earnings report tells a different story. Comparable store sales in the United States were up an impressive 10.3%. That's better than what's been reported from Carrols Restaurant Group, Inc. (NASDAQ: TAST), the parent company of Burger King and The Wendy's Corporation (NASDAQ: WEN). Global same-store sales were even high at 12.6% versus the 7.5% expected. 
While it's true that the company cites new menu offerings and price increases as the reason for this growth, it also confirms the company's pivot to digital is paying off. The company is test marketing a new restaurant model that features no public seating. The to-go-only restaurant in Fort Worth, Texas, uses a conveyor belt to deliver food to customers who order ahead through the company's mobile app.  
Shares are Consolidating But … 
MCD stock had been trading in a tight range since the beginning of the year. The pre-market sell-off pushes the stock to a support level of around $270. If the stock holds this level, then investors will look to see if the stock can push past a resistance level at around $275.  
Which way the stock will go may depend to an extent on the Federal Reserve's decision on interest rates. If the Fed concurs with the opinion that inflation is easing it will likely create a floor on equities. And specific to McDonald's it may ease concerns about the company's operating margins in future quarters.  
Hold Your Shares and Wait for Signs to Buy 
The analysts surveyed by MarketBeat give McDonald's a Moderate Buy rating with a price target of $288.48. That would be an 8% upside from the stock's current level and put it near its all-time high. That's not a lot of growth for some investors, but it's probably consistent with what is being forecast for the broader market. So that makes MCD stock hold for me. 
On the other hand, McDonald's is a company that will do well no matter what happens with the economy. And in the meantime, investors do get an attractive dividend that currently pays out $6.08 per share on an annual basis.