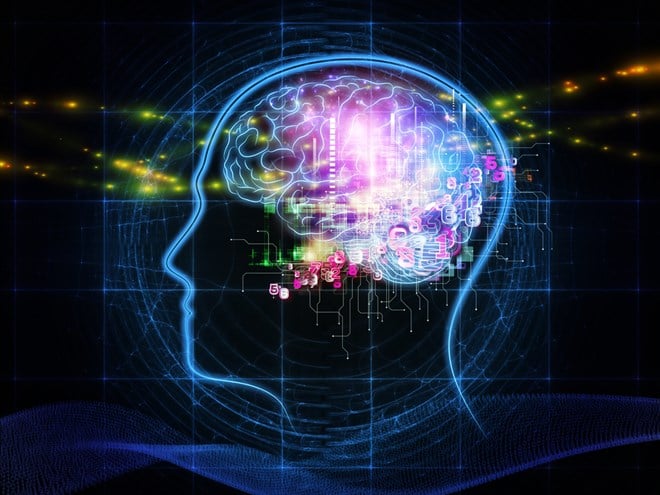 Robotic process automation (RPA) leader UiPath inc. (NASDAQ: PATH) stock has been rising with other artificial intelligence (AI) providers thanks to ChapGPT. The media coverage over the hype surrounding the AI platform ChatGPT has brought AI to the forefront again.
Unlike the frustrating chatbots you find online attempting to handle customer service requests by providing lame links, ChatGPT is a monstrous leap forward that brings the promise of genuinely applicable AI into focus. The fact that it gained over one million users within five days of launch speaks volumes, especially compared to other services taking months to years to achieve those kinds of user numbers.
ChatGPT is a valuable and fantastic resource for researching, programming, discovering, and creating content. You can ask it to write a 2,000-word blog on any subject, and it gets done in minutes.
Blue Collar AI  
UiPath provides robotic process automation (RPA) using artificial intelligence and machine learning algorithms to help companies automate repetitive tasks like data entry and document processing.
It also provides complex services like business process automation (BPA) functions, including accounting, finance, payroll, and human resources. In addition, UiPath provides more practical AI applications, a blue-collar version of AI that automates repetitive tasks. As a result, shares are much cheaper than the $90 highs they traded in May 2021.
UiPath provides more complex functions like computer vision, predictive analytics, natural language processing, and automated testing solutions. In addition, the Company introduced its value-based selling tool Northstar which uses prescription and predictive models to help its sales reps illustrate the value of automation to its clients and prospects.
The platform helps companies save time and money, which is especially relevant during weak economic cycles.
Compared to C3.ai
As the leader in RPA, UiPath generates over 4X the revenues of C3.ai at more than 2X top-line growth. While AI platforms like C3.ai Inc. (NYSE: AI) are growing in their reach and awareness with the business community, UiPath has already imbedded itself with some of the most well-known organizations like NASA to General Electric (NYSE: GE) and Alphabet Inc. (NASDAQ: GOOGL) owned Google, Autodesk Inc. (NASDAQ: ADSK).
Its client Paychex Inc. (NASDAQ: PAYX), saved 425,000 manual hours using UiPath services. In addition, it saw strength in healthcare and telecommunications. The Company also closed Petco Health and Wellness Company Inc. (NASDAQ: WOOF), Nautilus Inc. (NYSE: NLS), and Wisconsin Energy in its latest quarter.
Double-Digit Growth and Non-GAAP Profits
On Dec.1, 2022, UiPath released its third quarter fiscal 2023 earnings report for the quarter ending in October 2022. The Company saw earnings-per-share (EPS) of $0.05, excluding non-recurring items, versus consensus analyst estimates for a loss of (-$0.01), beating by $0.06.
Revenues rose 19% year-over-year (YoY) to $262.74 million, beating analyst estimates for $255.94 million with an annual run rate (ARR) growing 36% YoY of $1.11 billion. Most of UiPath's revenues come from Europe, where FX headwinds have significantly impacted the business but were down to $22 million in the quarter.
Co-Founders and Co-CEOs' Comments
UiPath Co-Founder and Co-CEO Rob Enslin commented,  "Our new go-to-market initiatives are driving results and resonating with customers. We closed several notable third-quarter deals using this value-selling approach and are widely engaged with new and existing customers as we head into the last quarter of the fiscal year 2023."
Co-founder and Co-CEO Daniel Dines added, "Our latest release, 2022.10, further expands our competitive advantage with market-leading capabilities at every stage in the automation lifecycle, from discovery to automate to operate. This cohesive approach makes it easier and faster for organizations to scale their automation programs and drive meaningful business outcomes efficiently."
Lowering the Bar
UiPath issued downside guidance for Q4 fiscal 2023 revenues between $277 million to $279 million versus $279.35 million estimates. However, the Company expected ARR in the range of $1.174 billion to $1.176 billion, slightly higher. The fall of the U.S. dollar index will also be a boon to UiPath.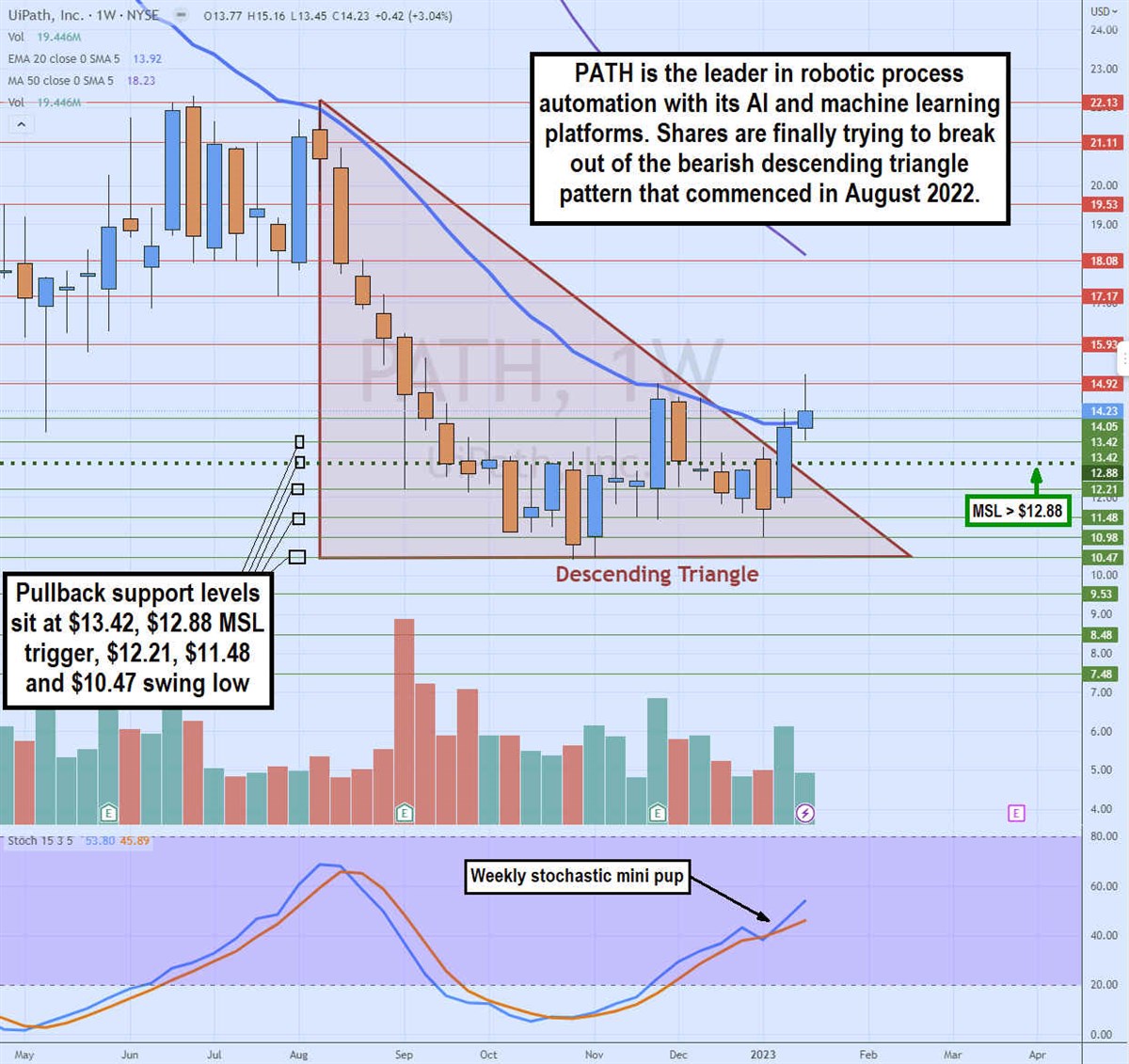 Weekly Descending Triangle Breakout
PATH shares have been in a weekly descending triangle pattern since August 2022 as the lower trendline holds support at the $10.47 swing low. However, shares have been able to break out through the falling triangle trendline on the weekly market structure low (MSL), trigger breakout through $12.88.
The weekly stochastic has been climbing since November, forming a mini pup to trigger the breakout. The weekly 20-period exponential moving average (MA) resistance is being tested at $13.92, with the weekly 50-period MA above $18.23. The pullback support levels sit at $13.42, $12.88 weekly MSL trigger, $12.21, $11.48, and $10.47 swing low.